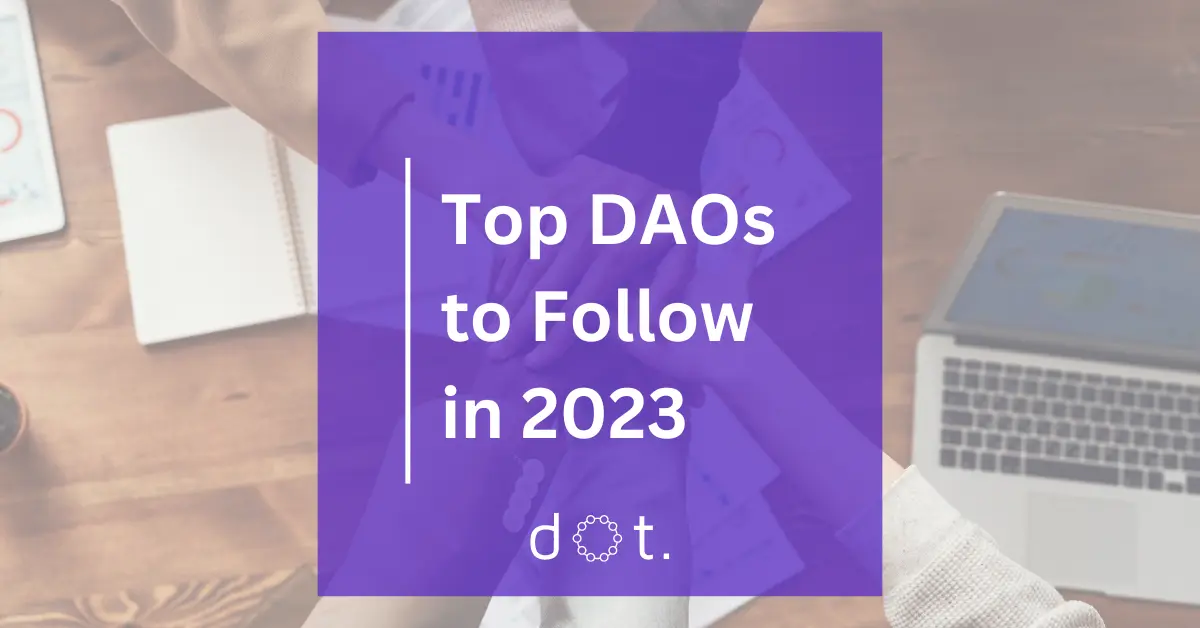 TL;DR
DAO stands for Decentralized Autonomous Organizations.

DAOs can unite communities across many activities including music, gaming, & sport.

Before joining a DAO, consider 7 factors, including Purpose, Governance, Transparency, Token Economics, Risk, Community, and Exit Strategy.

Top DAOs include Aave, Olympus DAO, Illuvium, Bankless, Friends with Benefits
Introduction
Decentralized autonomous organizations (DAOs) were first developed as a means of regulating blockchain protocols and decentralized apps (DApps), but they have since expanded to become financially-motivated communities for all kinds of interests, not all of which are necessarily crypto-related.
Consider a DAO as an online group of people who share a bank account and determine how to use the money. If you want to learn more, here is an introduction to DAOs (what they are and how they are created).
Trading, social gatherings, music, gaming, collecting, and sports, are just some examples of activities that DAOs cover. Finding the ideal DAO to suit your interests can take time and effort despite the expanding quantity and diversity. Here are some of the top DAO projects to follow or join in 2023.
What to keep in mind before joining a DAO
Understand a DAO's objectives and mission, and make sure they coincide with your own values and views, before deciding to join or invest in any project. 
It's critical to be familiar with the DAO's decision-making process and the distribution of voting rights among its participants. Hence, this may affect the organization's overall success as well as your amount of influence in decision-making.
To encourage transparency and decrease the chances of harmful activities, it is important to make sure the DAO includes open-source code and auditable smart contracts.
Understand the function and worth of tokens within the DAO's ecosystem by studying token economics. This includes how tokens are distributed, how they are utilized as incentives, for governance, and how they could possibly appreciate in value. Check out this guide to learn more about tokenomics. 
Technical and legal hazards that DAOs are exposed to include; hacking, coding errors, and ambiguous regulatory status. It's your responsibility as a potential investor to read more about these possible dangers and balance them against potential benefits.
A DAO's overall health and performance can be gauged by looking at how active and engaged the community is. A robust, vibrant community is frequently a positive indicator.
Think about your selling or transferring alternatives, especially if the DAO is performing below expectations. Setting up an exit strategy might provide you peace of mind and safeguard your investment.
Top DAOs
Aave 
Aave (AAVE) is a decentralized lending protocol that enables communication between lenders and borrowers without the use of a centralized middleman. The protocol's primary home was the Ethereum blockchain, but because of its widespread adoption, can now be integrated into many other networks. 
Holders of the AAVE token influence the governance of the protocol. These consist of system potential enhancements and how Treasury money is utilized. AAVE can also be used as collateral within the ecosystem, which greatly lowers costs. Aave, which is managed by its own DAO, is one of the largest DeFi protocols.
Olympus DAO
OHM, governed by the Olympus DAO, is Web3's decentralized reserve currency. OHM's purpose is to provide the growing Web3 financial ecosystem with a censorship-resistant currency that preserves purchasing power, has deep liquidity, is trusted, and is widely used as a unit of account. 
OHM is supported by a robust and growing Treasury, which acts as a counterbalance to the market, adding confidence and stability to a volatile system.
Illuvium
A fully decentralized protocol, Illuvium represents a new age in gaming. It has been engineered to support the long-term sustainability of the Illuvium game and governance and provide players with an AAA-rated blockchain gaming experience. 
What makes Illuvium unique is that stakers receive regular distributions and can vote on everything from tokenomics-related issues to the features in the game itself. With Illuvium, the power to define the project into the future is purposefully left to those who stake in the protocol.
Illuvium is one of the most popular NFT games. Players may interact and engage in conflict in the game's complex 3D universe, which has fantasy role-playing game elements. NFTs may be exchanged on the game's local market or utilized in player-against-player (PvP) combat to earn ETH. 
The new governance system consists of two main parts, the first being the Illuvinati Council, which is made up of candidates who are elected by $ILV token owners, allowing community representatives to have a voice in technical decisions. In addition, this prevents major $ILV holders from unfairly influencing the result of proposals.
The second, Illuvium Proposals (changes to the protocol) are published in the Proposal area and submitted to the repository, and a supermajority of voters must approve them.
Bankless
Bankless is a DAO that manages and spreads bankless media, culture, and education. The main goal is to encourage the use and understanding of genuinely bankless payment systems like Ethereum, DeFi, and Bitcoin.
The BanklessDAO community works together to develop approachable entry points for individuals to learn about decentralized financial technology. It stems from the widespread belief that giving up banks is a path to obtaining freedom, security, and financial independence.
At BanklessDAO, decisions related to the governance process, treasury allocation, and organizational structure are made using Snapshot, an off-chain token-weighted voting platform. Any BANK token holder can vote in a Snapshot poll, where the more tokens they hold, the more voting power they have. 
Friends with Benefits
Friends with Benefits is a group of creators, artists, and thinkers driving the web3 revolution. FWB serves as a link between creators and web3 technology, promoting a culture where everyone is engaged and creators are rewarded for their work. Each member has a shared stake, fostered by the FWB token. The token plays a significant role in this economy, laying the groundwork for token-permission communities. 
FWB believes web3 has the capacity to empower creators, connect individuals with global communities, and distribute knowledge and shared resources. Depending on their skill sets and interests, contributors receive invitations to join the team. Weekly one-on-one meetings are scheduled by team leaders with board advisors to go through issues, priorities, and KPIs. A budget is given to each team depending on the suggestions.
Closing Thoughts
DAOs are anticipated to advance in the years to come. The number of functional DAOs increased by 660% between 2019 and September 2020, indicating rapid growth in the DAO inventory.
The innovators supporting new DAOs will need to be aware of a variety of factors as they emerge, including; consumer preferences, main barriers to adoption, key use cases, and many more.
Have you joined a DAO? What was your experience?
Grow Your Crypto Business
Introduction While many entrepreneurs focus solely on traditional marketing strategies, there are...
Read More