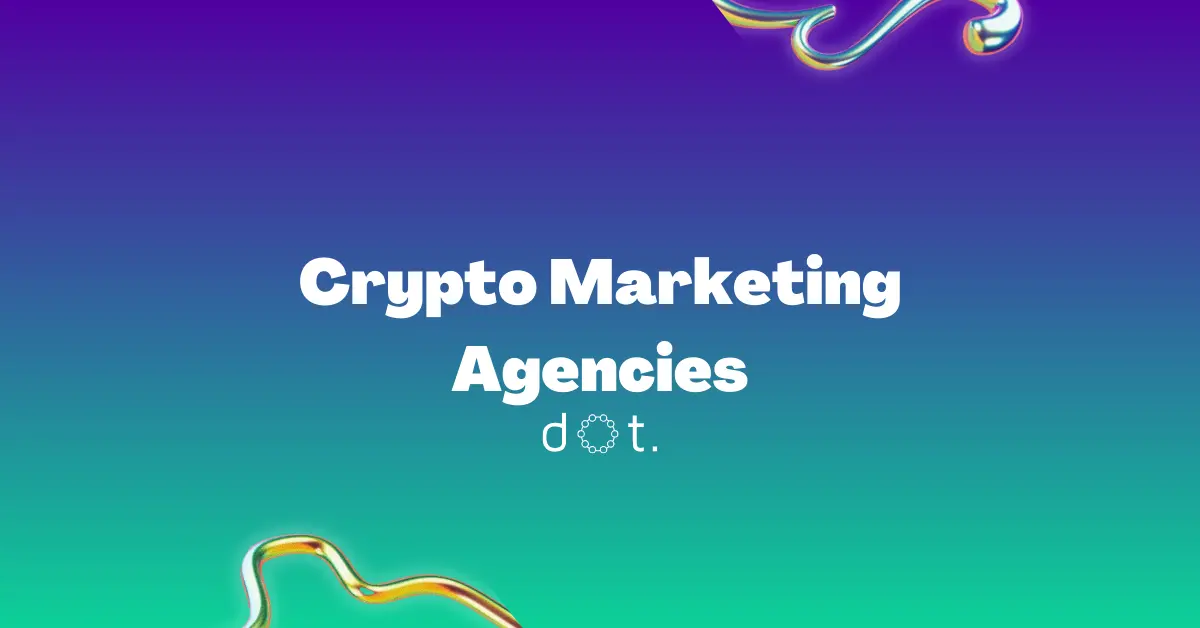 ⭐️
Introduction
Cryptocurrencies and web3 technologies are completely transforming the way businesses conquer marketing. 
Beyond the realm of asset promotion, crypto & web3 marketing also shows a shift towards decentralization, transparency, and active community engagement. 
However, choosing the right marketing agency is an important decision that can be the fundamental ingredient for growth. Specialized crypto marketing agencies could help you unlock a project's true potential, navigating through the complexities of this dynamic landscape. 
With regulatory hurdles, intense competition, and ever-changing trends, partnering with the right agency can be a game-changer.
⭐️  
Crypto Marketing Agency – The Why
Data. It is the lifeblood of effective marketing strategies, and the crypto world is no exception. Specialized agencies possess useful data-driven insights that can be used to make informed decisions. From understanding market trends and consumer behavior to crafting tailored campaigns that resonate with the target audience, data-driven marketing is a great tool!
In a space as crowded and fiercely competitive as the crypto market, standing out from the crowd is key. It requires not only creativity and innovation but also strategy and planning. A skilled crypto marketing agency brings to the table a portfolio of campaigns that have proven successful, inspiring trust and fostering meaningful connections with audiences.
Furthermore, an agency dedicated to crypto marketing possesses knowledge of blockchain technology, decentralized applications, and the trends within the space. This expertise translates into campaigns that are not only impactful but also future-proof!
⭐️  
Top 5 Crypto Marketing Agencies of 2023
Let's explore the top 5 agencies that have been at the forefront of accelerating success for crypto and web3 projects.
CryptoPR, based in the UK, is a leading marketing agency with a specialized focus on crypto promotions. They are running one of the largest crypto news portals in key European regions like Germany, France, and Scandinavia.
At the core of CryptoPR's mission is to help businesses craft and disseminate compelling crypto promotional material on some of the world's most renowned crypto-authority media networks. 
Instead of relying on automated PR newswires, CryptoPR offers a hands-on approach, ensuring that every piece of content resonates with the target audience.
Here are some of the primary services offered by CryptoPR: PR (obviously?), NFT promotion & shilling; banner ads campaigns, advertorials, comparison listings & reviews, and international campaigns.
One thing that sets it apart? They are working with popular Telegram, Youtube, TikTok, Instagram, and Twitter crypto influencers.
Did you know? 
Quality agencies and marketeers use DOT Ads to power effective crypto advertising campaigns. 
When making the important decision of which agency to use, it's worth asking! DOT Ads offers crypto advertising with a Google Ads-style interface. Decide your budget, geos, and creatives. Start, Pause, and Update campaigns at any time!
What's more, agencies receive special access via the DOT Ads agency program. The link is here to create a free account.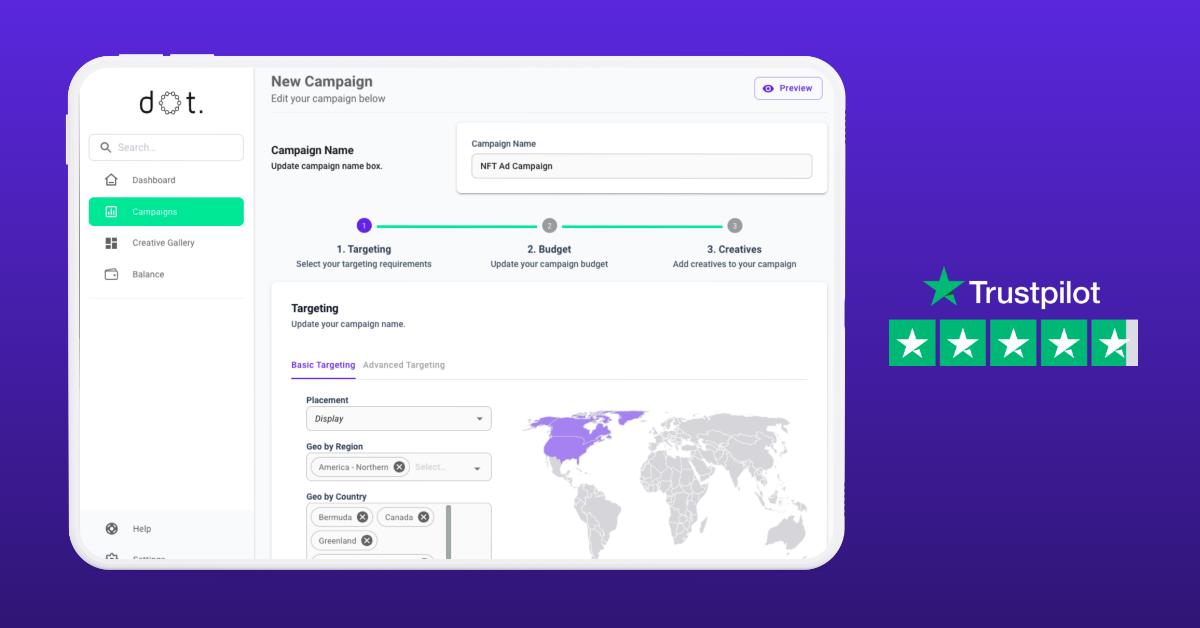 Founded in 2021, GrowthChain is a dynamic full-service web3 marketing agency based out of Gibraltar. They are on a mission to redefine the future of digital marketing.
Specializing in NFTs, DAOs, and DeFi they have collaborated with a diverse range of clients. These include innovative startups, visionary developers, and pioneering NFT studios, all driven by the belief in the transformative potential of blockchain technology to create groundbreaking products and services.
They offer a wide array of services: from Web3 Community Building and Management to Influencer Marketing, from Public Relations to Social Media Management.
One thing that sets it apart? Acknowledging the diversity and rapid evolution of the web3 landscape, GrowthChain offers meticulously crafted marketing plans tailored to each unique product and set of objectives.
NinjaPromo is a marketing agency specializing in social media marketing. It is a go-to choice for business-to-business ventures, cryptocurrency endeavors, NFT projects, and high-growth startups. 
From social media engagement and SEO strategies to influencer marketing and blockchain development, NinjaPromo offers a variety of services to assist businesses in scaling their operations and reaching their target audiences. 
With a global reach and a growing team, NinjaPromo seeks to be a reliable partner in navigating the complexities of the digital marketing landscape.
One thing that sets it apart? They offer mobile & website development & design. 
ICODA stands out for its specialized focus on ICOs and STOs, successfully empowering many projects to achieve their financial objectives and build a devoted community of supporters. 
With a data-driven approach, ICODA offers comprehensive digital and crypto marketing services, streamlining business models for crypto businesses worldwide. 
With a commitment to simplifying the development, commercialization, and scaling of competitive advantages within the crypto market, ICODA Agency stands as a reliable partner for businesses seeking to navigate the ever-changing landscape of the crypto industry.
One thing that sets it apart? They can help you write your whitepaper and with the smart contracts verification process.
Crowdcreate provides essential strategies, industry insights, and cutting-edge marketing technology to meet the business needs in crypto. With a vast network of influencers, investors, and thought leaders, Crowdcreate can facilitate meaningful connections to fuel growth. 
Their expertise encompasses influencer marketing, community building, fundraising, paid advertising, and PR growth strategies. Crowdcreate has achieved remarkable milestones, such as supporting Asia's fastest-selling token sale in 2018 and creating compelling social media content for projects like The Sandbox. 
One thing that sets it apart? They can find and connect you with qualified investors that can provide the needed capital for your business.
Bonus: Business Mentoring
If you're looking for a business mentor to guide you through the intricacies of marketing, Robin Waite should be your choice. Working with Robin on your strategy can be a game-changer!
His marketing expertise and ability to craft tailored strategies make him a valuable partner in achieving your goals. Robin's guidance and support can help you excel in this dynamic industry, ensuring your success.
⭐️ 
Conclusion
Selecting the right marketing agency can be of great help for a crypto or web3 project. These top 5 crypto marketing agencies showcase a few of the industry's best, each bringing a unique set of skills and approaches to the table. 
By enlisting the expertise of these agencies, crypto and web3 projects can confidently navigate the challenging landscape and have sustainable growth! 
Don't forget to ask if your agency is using DOT Ads to help power your campaigns.
Grow Your Crypto Business
Article originally published on KillerStartups. In a world where giants like Google...
Read More