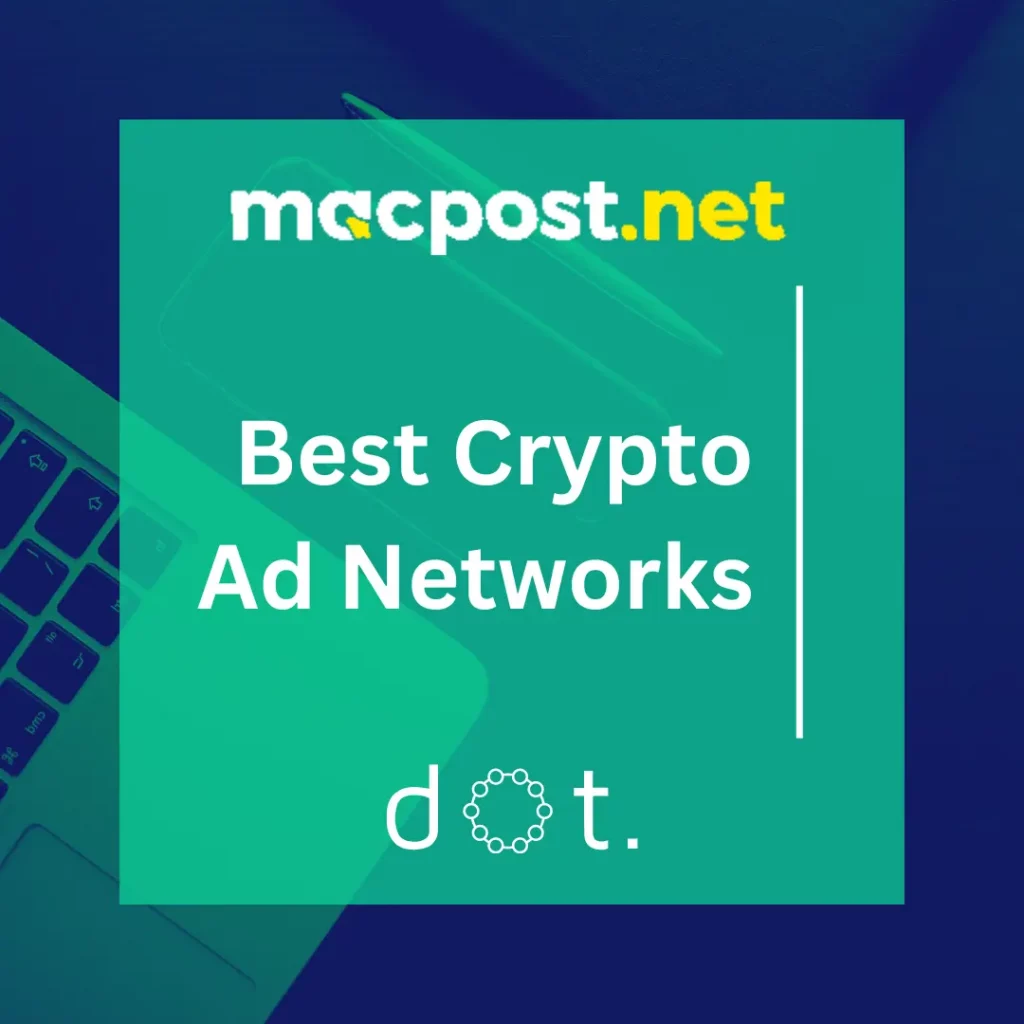 List originally published on MacPost.
Do you like to increase the money generated by your GameFi application? Then, you must join the appropriate crypto ad networks that will maximize your revenue to reap the maximum benefits.
Crypto ad networks are comparable to traditional ad networks such as Google Ads. The sole distinction is that they focus exclusively on crypto-related ventures. The networks will only approve blockchain-related websites and applications, such as GameFi apps.
GameFi is a term that refers to decentralized apps that incorporate economic incentives. They reward users with tokens for completing game-related tasks such as winning battles or mining valuable minerals.
If you have a GameFi application and want to attract the proper kind of visitors to your project, you should monetize it using crypto ad networks and the appropriate advertising methods.
We will discuss the top ad networks for crypto NFT games in this blog, but please remember that these networks are not ranked in any way other than alphabetical order. You'll need to research to determine the most appropriate for your brand!
10 best Crypto Ad Networks in 2022
DOT is the #1 UK Based Premium Crypto Ad Network. DOT provides advertisers direct access to over 300 Blockchain and Crypto news sites, premium investor content, and popular podcasts.
Advertisers can use DOT to reach high-quality crypto-relevant audiences with one-click audience profiling and geo-targeting.
Display ads of any size are available, and advertisers and publishers benefit from complete performance transparency thanks to DOT's Analytics Dashboard.
Content marketing options for sponsored articles and press releases are also available to boost any ad strategy.
Furthermore, DOT enables advertisers to embed tracking links from AppsFlyer, Adjust, and other providers, providing complete transparency from impression to conversion.
DOT provides a consistent way for Crypto & Blockchain companies to generate a return on investment (ROI) for Ad/Marketing spending.
DOT plans are flexible and can be paused or canceled at any time.
A-ADS was one of the first cryptocurrency advertising networks to enter the market. It was founded in 2011 and has since established itself as one of the leading ad networks for GameFi applications.
The network provides detailed statistics to assist you in determining the effectiveness of the advertisements broadcast on your app. You'll be able to determine the source of the majority of your traffic and optimize your ad assets for maximum effectiveness.
Additionally, the network is quite convenient for advertising. Creating a campaign is straightforward here, as the entire procedure takes only a few minutes.
There are numerous ways to optimize a campaign's performance. Additionally, clients can employ geotargeting to appeal to people in specific geographic areas. The site takes cryptocurrency payments and allows users to bid on CPA and CPM campaigns.
Dragon X was founded in the year 2021. They provide blockchain projects, DAOS, DEXs, and entrepreneurs with the most powerful tool available to help them expand their businesses, reach more users, and develop faster.
They are a fervent group of software engineers, data scientists, blockchain pioneers, and advertising professionals.
Since its inception, Dragon X  has experienced significant growth, owing to its creative advertising solutions for both publishers and advertisers. Dragon X's decentralized nature enables it to provide a plethora of useful tools for launching, managing, and tracking advertising campaigns.
The platform is well-known for delivering high-quality traffic that enables publishers to optimize ad income. Additionally, the rewards are quite significant, with publishers keeping 95% of the revenue produced.
Dragon X  has quickly risen to prominence as a prominent marketplace for crypto NFT games as a result of its superior offerings.
Adshares is another fantastic advertising network for your GameFi application. The network supports blockchain advertising and was built to drive high-quality traffic to the platform's ad assets.
In certain cases, the network permits direct transactions between publishers and advertisers without involving a third party.
Adshares is unusual in that it delivers low-cost, censorship-free advertising. Additionally, it is capable of processing over one million transactions per second, courtesy of the ADS blockchain.
The network can successfully target international customers, assisting advertisers in increasing the reach of their advertisements.
Ambire is a highly efficient blockchain-based advertising network that focuses on the issues that affect the performance of advertising campaigns.
Ambire, formerly known as AdEx, assists advertisers in reducing fraud, optimizing campaign budgets, and safeguarding user privacy. The network is an implementation of the company's open-source digital advertising protocol on Ethereum.
It includes specialized tools that assist advertisers in effectively marketing their items. The network generates precise information that aids in campaign planning. There are no commissions or costs associated with this program, and publishers can monetize 100% of their traffic.
Bitmedia.io is a blockchain-specific advertising network that connects blockchain businesses with the most qualified crypto audience. The network was founded in 2015 and already generates an astounding 1 billion monthly impressions. Bitmedia offers advertisers a variety of targeting choices, including device, geography, time, and frequency.
Bitmedia employs stringent verification procedures to ensure advertisers receive only legitimate impressions. To ensure advertisers only pay for authentic clicks, the network checks each seller provides third-party oversight and does manual click and impression verification.
The network supports the CPC and CPM advertising models. Bitcoin is the platform's supported currency, with a minimum payout of 0.001 BTC.
CoinAd is an incredible advertising network that connects cryptocurrency-related websites to established marketers. Its primary benefits and features include daily impressions in excess of 100,000, self-service operation, and a variety of ad types.
Although the platform is geared toward elite publishers and marketers, it can also be utilized for low-cost advertising campaigns.
Clients using the platform have the ability to fine-tune their targeting by applying filters based on certain times, geographic locations, and device types.
CoinAd campaigns provide a high return on investment, which attracts a lot of publisher attention.
Cointraffic is a premium advertising network focused on the cryptocurrency and blockchain advertising markets. It was founded in 2014 with the purpose of serving marketers and publishers in the cryptocurrency business.
It provides a choice of ad types and tools for conversion rate optimization. All communication on the platform is handled by dedicated account managers who are accountable for the success of your campaign.
Cointraffic offers cost-per-click campaigns, with advertisers able to choose from a range of advertising forms, including banners, native, and pop-under ads.
The platform is simple to use and enables smooth commission withdrawal. The other advantage is that the advertising network is extremely picky when it comes to advertising partners and extremely cautious when it comes to accepting advertisers.
The minimum withdrawal amount is €25, and both bitcoin and fiat currency are accepted.
CoinZilla is an outstanding cryptocurrency advertising network that was founded in 2016. The network is part of the Adselvo sector and focuses on crypto market promotion through the provision of a comprehensive variety of digital solutions. CoinZilla is able to provide global exposure to nascent cryptocurrency ventures, hence accelerating growth.
The network has promoted over 200 brands and is looking to expand its reach by attracting additional advertisers and publishers to assist them in monetizing their online presence.
The platform offers a variety of unique advertising possibilities not accessible anywhere else and provides professional account managers to assist clients with campaign setup.
CoinZilla accepts deposits and payments in the following currencies: Bitcoin, Ethereum, and wire transfers. A minimum deposit of €5000, 0.05 BTC or 0.5 ETH is required.
CryptoAds is a fantastic ad network that enables advertisers and publishers to promote their blockchain, cryptocurrency, and GameFi software initiatives in a new way.
The network utilizes a proprietary set of data that is targeted at the critical GameFi and crypto audiences. It possesses the ability to circumvent Google and Facebook's prohibitions in order to reach a broad audience and garner high-quality visitors.
CryptoAds has established itself as the best cryptocurrency advertising network due to its integrated targeting and remarketing features, which assist customers in reaching relevant users.
The platform is simple to use and membership is free. Bank deposit, PayPal, or check are all accepted modes of payment.
AdToken is one of the greatest ad networks for advertisers because it is powered by RTB (real-time bidding) advertising. The network, like the others described previously, is devoted to promoting cryptocurrency-related websites and applications.
It enables advertisers and publishers to monetize their GameFi applications, websites, blogs, cryptocurrency exchanges, and initial coin offerings (ICO) rankings.
AdToken supports a variety of ad forms, including banner advertisements, standard ads, and native ads. The platform is simple to use and restricts the display of cryptocurrency content on the website.
This cryptocurrency advertising network works directly with publications and advertisers from all around the world but occasionally boosts select geos. The site requires a minimum deposit of $10,000 and accepts payment in both crypto and fiat currencies.
Conclusion
Crypto ad networks are companies that specialize in pushing advertisements for Bitcoin and other fiat currencies on relevant websites. It's another way to monetize your website.
There are various networks to choose from; some are easier to join than others, while others are more cost-effective or provide superior customer service.
Grow Your Crypto Business
Introduction While many entrepreneurs focus solely on traditional marketing strategies, there are...
Read More