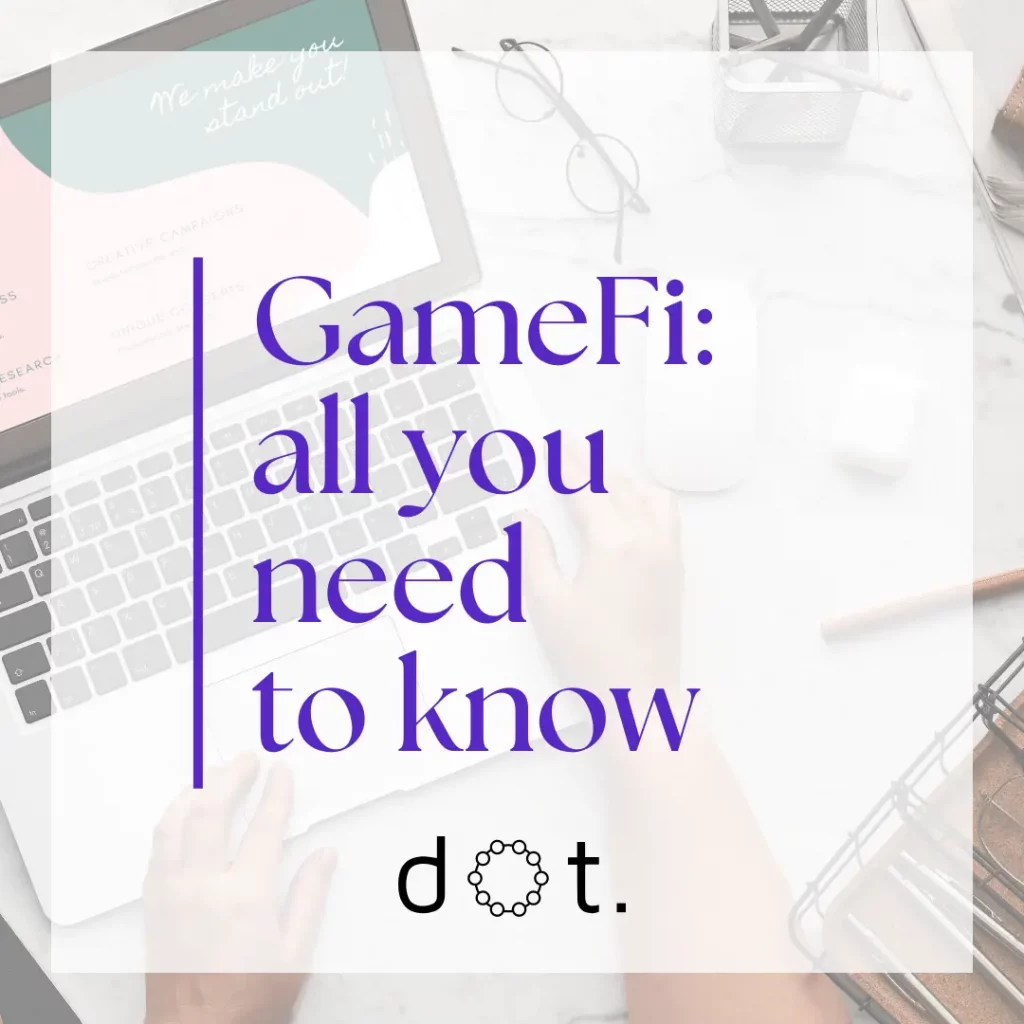 Introduction
No need to emphasize the tremendous growth of web3. Web3 is disrupting many industries, including gaming. Blockchain technology allows gaming and finance to mix to create something coined GameFi.
In this article, we explain what GameFi is, how it works and three different gamified reward systems: Play-to-Earn, Move-to-Earn and Learn-to-Earn. 
GameFi 101
In order to explain new concepts, we like to go back in time for a bit. 
The video games of old were stored on centralized servers, which means that developers and brands had complete control. Also, purchasing licenses or recurring subscriptions was the first step to becoming a player. 
Moreover, digital objects players earned through gameplay offered true ownership. Weapons, avatars or digital lands had no value outside the gamified world and there was no way for players to be compensated for their investments (both in time or money) other than by vlogging or participating in tournaments. 
This is where GameFi comes into play and changes the narrative. GameFi combines the technology of blockchain, NFTs and different game mechanics that allow players to earn tokens and own digital assets. Players have full control of their in-game objects or features and, by accomplishing different tasks and moving through game levels, they are able to earn various rewards. 
The best part is that those rewards have value outside the game realm. For instance, players are given special tokens or NFTs, which they can swap on crypto exchanges or NFT marketplaces. Thus, in-game economies are fueled by NFTs, creating a super-cool business model where everyone (both developers and players) benefit. 
So we have an innovative ecosystem emerging, which encourages participation by offering rewards. There are three different models shaping the GameFi world which we cover in this article. 
Play-to-Earn
The spotlight is, definitely, on play-to-earn (P2E).  
The P2E model utilizes blockchain technology, so players can participate in a game and possibly win cryptocurrency, NFTs and other valuable in-game assets. Those include cards, skins, avatars or virtual lands. The more a player participates, the more resources they can gather, thus the name: you play – you earn. 
The assets have real-world value: once transferred on other platforms or exchanges, they can be turned into crypto, fiat currency or stablecoins. At the same time, NFTs received in the game can be sold on other marketplaces for a higher price.
Due to its decentralized nature, developers aren't able to control everything and the game development is done through developers' work and players' feedback. 
In terms of cost, some P2E games are free-to-play (like Splinterlands or the Sandbox). Others require the purchase of NFTs or crypto-assets before you can join the game and generate financial rewards. 
Move-to-Earn
There's a new movement that aims to dominate the GameFi industry, known as "Move-to-Earn" (M2E).
Similarly to P2E, M2E uses NFTs, native tokens, the blockchain environment, and a device. The device should track movement, because this model tokenizes physical activity or exercise. Users can earn cryptocurrency or NFTs (or a combination of both) according to how much they work out or how many fitness-related challenges and goals they achieve.
M2E incentivises users to exercise more and live a healthier lifestyle. Thus you can earn rewards for running, walking or participating in other sports. It's that extra-motivation you need when you think you'd rather skip the gym. 
One of the most popular platforms is Stepn – a Web3 lifestyle ecosystem that rewards players for running and walking outdoors. To get started, you need to buy an NFT sneaker, which is around $200 as of June 2. The price could be too high for many users, so Stepn introduces an NFT renting program which works like a scholarship, allowing players to easily become part of the ecosystem. 
Another option is JustMove – a phone app that connects to your smartwatch to sync many activities. Besides walking and running, you can also swim, bike, hike and many others (in the real world). On top, you can engage in different activities in the Metaverse, such as dancing, yoga or tennis. 
M2E has huge potential in incentivizing people to have a healthier lifestyle and also to join the web3 space. 
Learn-to-Earn
You already got the hang of it, so Learn-to-Earn should be pretty self-explanatory by now. The concept of L2E rewards you with tokens just for learning about cryptocurrency, typically in the form of the tokens you discovered through watching videos or reading articles.
Some popular platforms, such as Coinbase or Binance, will offer free tokens just for completing quizzes or different tasks. This is a great way for them to acquire new customers, because they require you to create an account and verify your identity. Once complete you can start participating in lessons and earn free crypto. 
If you're looking to expand your crypto knowledge while earning, check Coinbase, Binance Academy or CoinMarketCap. 
Quite unique is BitDegree, which goes beyond the usual platforms. They introduced the "Learnoverse", a crypto learning metaverse, as part of their ambition of becoming the top crypto educator in the world of Web3. By viewing a series of educational videos, users are able to learn about crypto concepts and initiatives. Learners are rewarded NFT certificates, which they may trade via the network's Learn-to-Earn system.
Conclusion
Undoubtedly, we're experiencing the growing popularity of GameFi. Some web3 analysts claim that the gaming sector is the most likely route for mainstream blockchain adoption! The aforementioned models are interconnected with the Metaverse, which has the potential to generate up to $5 trillion in value by 2030.
What do you think, is the Gaming industry set for a Web3 revolution?
Grow Your Crypto Business
Introduction While many entrepreneurs focus solely on traditional marketing strategies, there are...
Read More