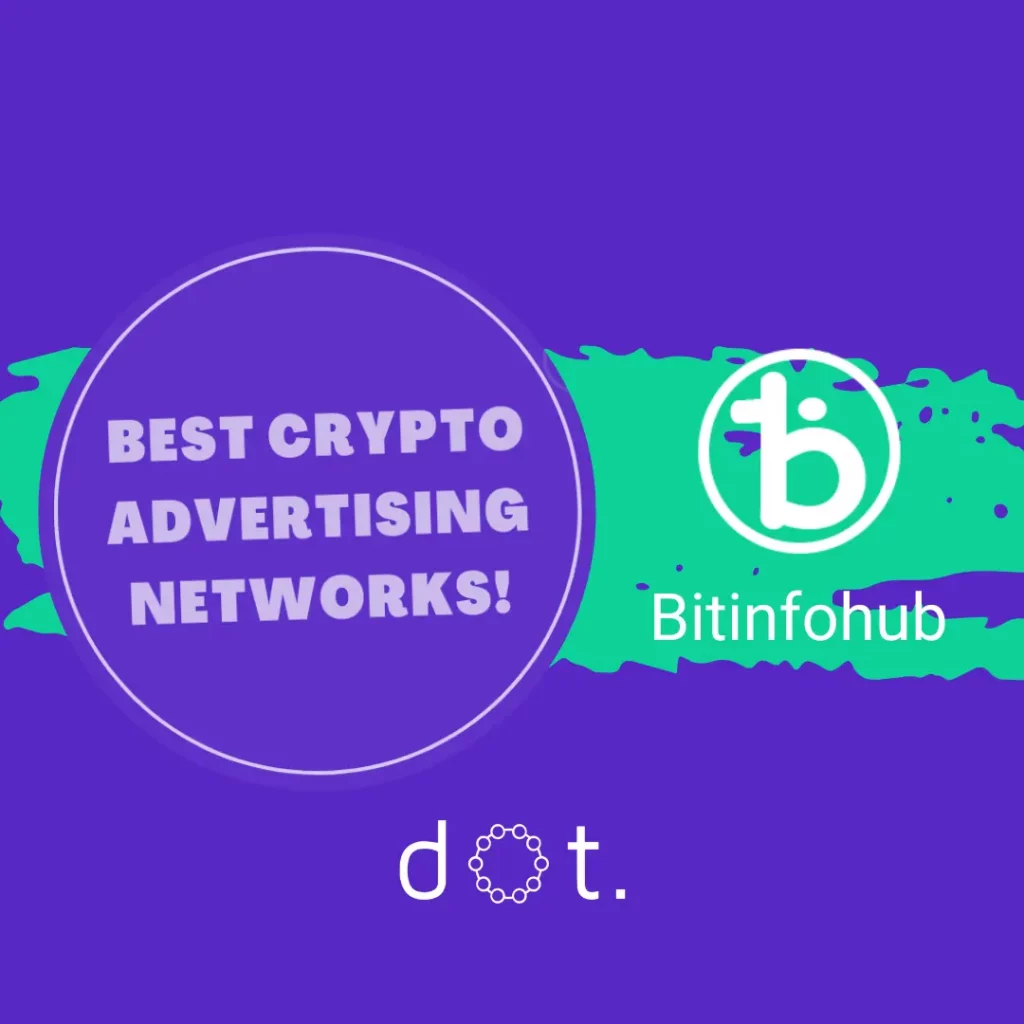 List originally published on BitinfoHub.
A crypto advertising network is a decentralized way to buy and sell advertising space using cryptocurrency. This allows for faster, more secure transactions and eliminates the need for a third-party intermediary. By bringing transparency and efficiency to online advertising, cryptocurrency ad networks are changing the game's rules.
Since Bitcoin and other cryptocurrencies have gained popularity in the investing world, crypto ad networks have grown in popularity too, and they can potentially disrupt the online advertising industry. Similar to Google Ads, crypto ad networks act as a platform where publishers and crypto advertisers may collaborate to promote cryptocurrency-related websites and apps. The main difference is that crypto ad networks focus more on promoting crypto-related ads or websites.
The Best Crypto Advertising Networks
There are many crypto advertising networks to choose from. But here are the best ones in the industry.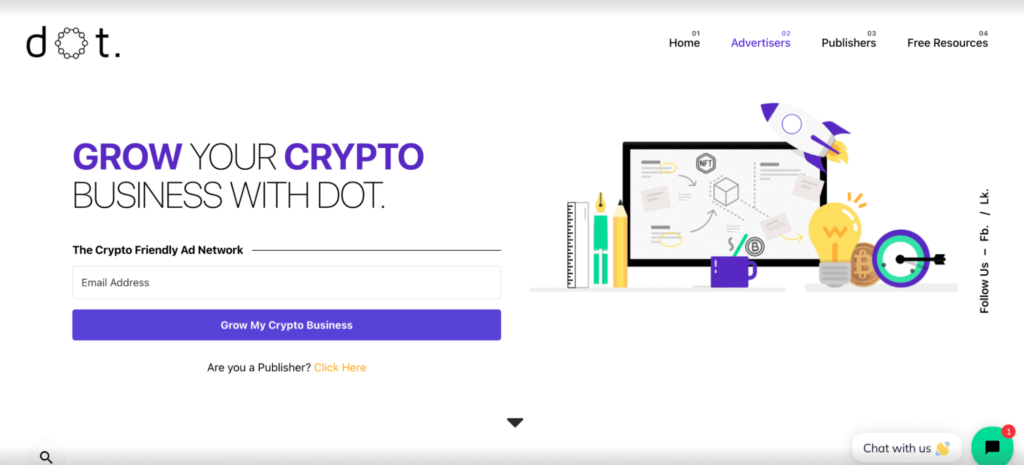 DOT is the first Premium Crypto Ad Network based in the UK. Over 300 Blockchain and cryptocurrency news websites, premium investment information, and well-known podcasts are all directly accessible to marketers through DOT.
With one-click audience profiling and geo-targeting, advertisers can leverage DOT to connect with highly qualified audiences relevant to crypto.
Advertisers and publishers have access to display ads of any size, and DOT's Analytics Dashboard provides comprehensive performance transparency. Content marketing alternatives for sponsored articles and press releases are also available to support any ad plan.
Additionally, DOT allows advertisers to include tracking links from providers like AppsFlyer, Adjust, and others, offering total transparency from impression to conversion.
DOT offers a reliable method for Blockchain & Crypto enterprises to produce a return on investment (ROI) for Ad/Marketing expenditures.
DOT plans are flexible, monthly rolling, and easily paused or canceled at any time.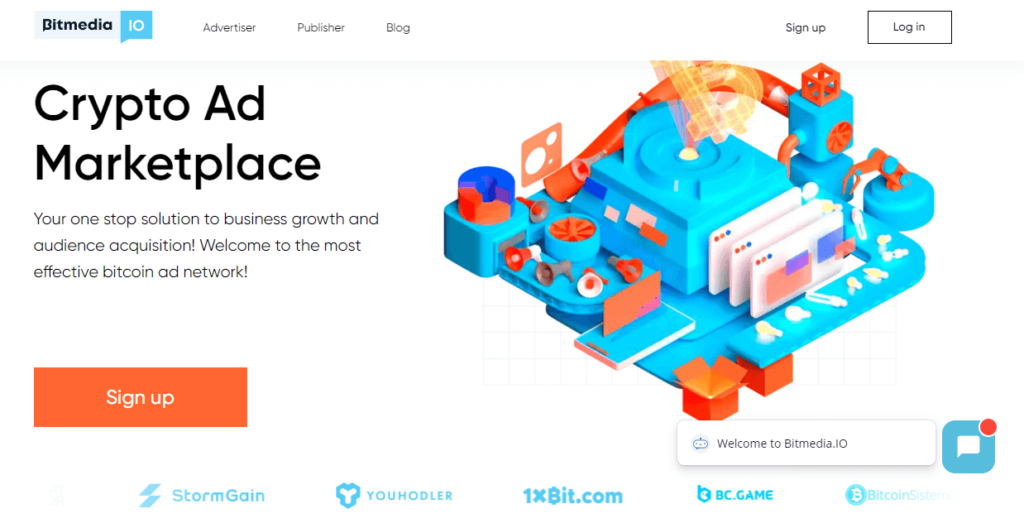 BitMedia was founded in 2014 and is one of the leading crypto advertising networks. They offer a wide range of display ad sizes to choose from. Their team provides good service and support to help advertisers get the most out of their campaigns. They strongly focus on quality traffic and offer some of the most competitive prices in the industry.
Since they've been in the crypto industry for a long time, they have garnered large target audiences from more than 7,000 cryptocurrency-related websites. If you are looking for a high-quality advertising network, Bitmedia is an excellent option.
Bitmedia mainly serves sites linked to cryptocurrency but is also open to non-crypto websites with high-quality traffic. The company also offers a Bitcoin or fiat withdrawal for advertisers and publishers. There are no minimum top-ups if you use crypto-currency as an advertiser. The minimum withdrawal for publishers is $20.
Ad Format
Pricing Model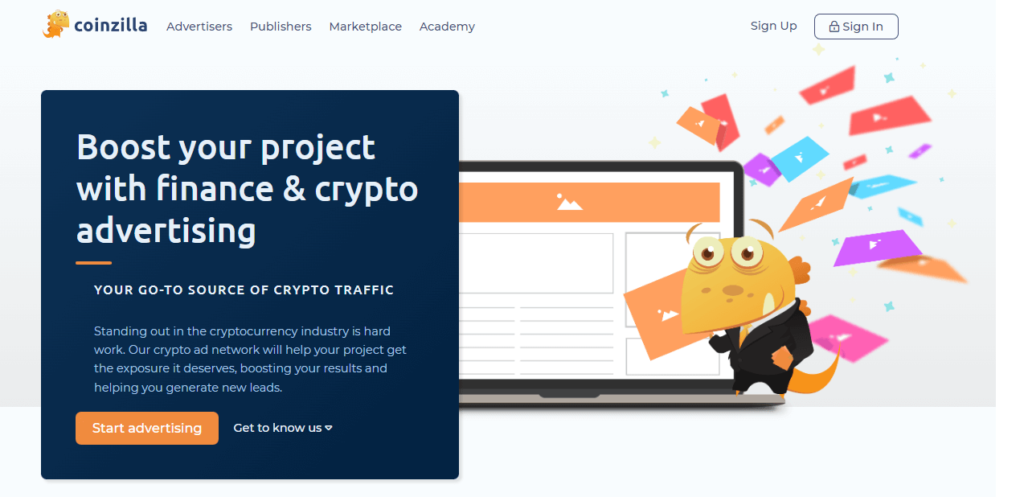 Coinzilla is one of the best crypto advertising networks developed in November 2016 by Sevio, a firm that develops advertising technology solutions. It has a wide array of ad formats to choose from. Their team also provides personalized service and support to help advertisers get the most out of their campaigns.
For payments, they offer various payment options for advertisers and publishers, such as Bitcoin, Ethereum, and fiat wire transfers. Coinzilla is an excellent choice for advertisers looking to reach the cryptocurrency community.
Coinzilla only accepts websites that are related to cryptocurrency. While the acceptance requirements may be challenging for some websites, Coinzilla does this to ensure excellent and high-quality advertising. In particular, Coinzilla chooses publishers whose websites have been operational for at least three months and are easy to use. The minimum payout for publishers is €50.
Ad Formats
Pricing Model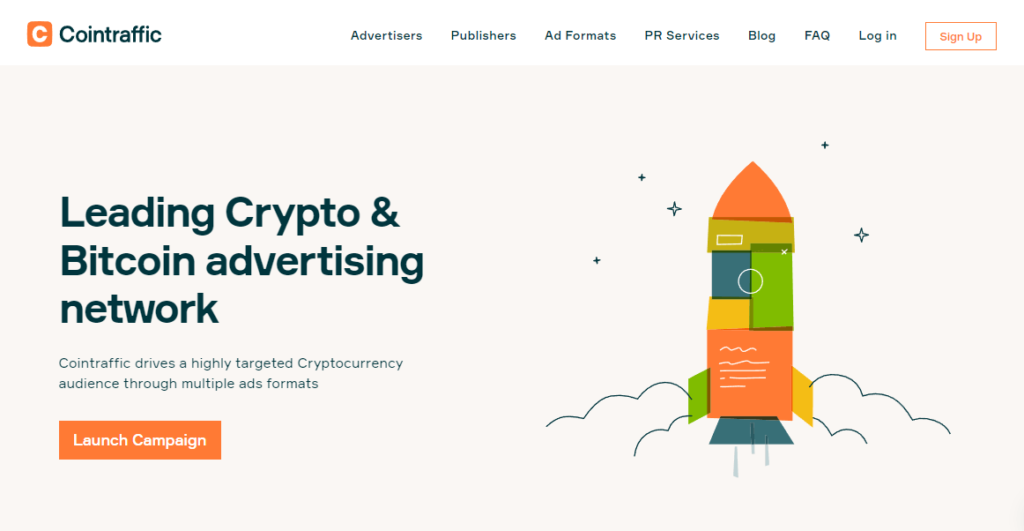 Cointraffic is a crypto advertising network that has been around since 2013. It is one of the most well-known ad networks for those in the crypto space and offers a wide range of options, especially for advertisers. The company has a self-serve platform that makes it easy to get started with advertising.
Like any other ad network, Cointraffic also offers a wide range of targeting options, so you can ensure that the right users see your ads. You can target by country, interests, or even specific websites. If you're looking to reach more people in the crypto space, Cointraffic is a great option.
For advertisers, the minimum daily budget for a single banner campaign is €20. However, the minimum marketing budget to be paid into their system is €500. As a publisher, the minimum withdrawal is €25.
Ad Formats
Pricing Model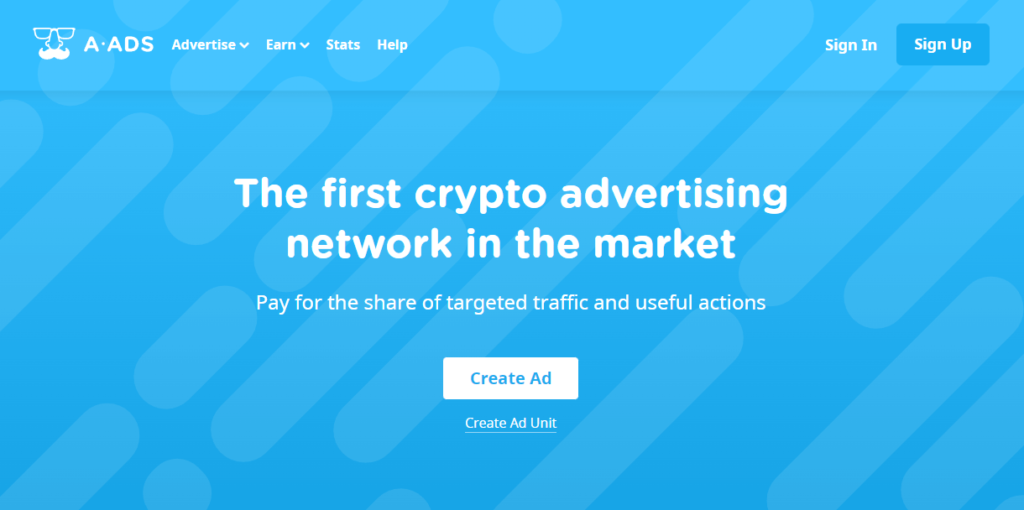 A-ads is a popular cryptocurrency advertising network. It has been around since it started its operation in 2011 and is one of the first ad networks to accept Bitcoin payments. A-ads offers both banner and text ads, and it has a wide range of ad sizes. Publishers can also earn revenue from A-ads by displaying ads on their websites or blogs.
A-ads is not strict in accepting publishers' websites. The main requirements are that the website must be operational and have legitimate traffic. There is no limit to the number of pages on the website, nor is there a minimum number of visitors required. Publishers can register for an account and then add their website.
A-ads has a good reputation in cryptocurrency and is known for its high-quality traffic and low minimum payout. There is no minimum payout if you use FaucetPay, while other bitcoin addresses are 0.001 BTC.
Ad Formats
Pricing Model
The Benefits of Using a Crypto Advertising Network
A crypto advertising network is a way for businesses to purchase online advertising space with cryptocurrencies like Bitcoin. This service allows businesses to avoid the high fees associated with traditional advertising networks while still reaching their target audience.
There are several benefits of using a crypto advertising network over a traditional one:
Businesses can avoid the high fees charged by traditional advertising networks.

They can reach a wider audience by targeting people interested in cryptocurrencies.

Crypto advertising networks are more transparent than traditional ones, making it easier for businesses to track their results.
How to Choose the Proper Crypto Advertising Network
When advertising your cryptocurrency business, you want to ensure you're using the right crypto advertising network. There are several points that you should take into consideration when making your decision.
First, what kind of budget do you have for advertising? Some networks are more expensive than others. Make sure to select the one that fits your budget.
Second, what is your target audience? You want to ensure your chosen network has access to the people you want to reach. For example, if you're trying to reach a global audience, you'll want to choose a network with international reach.
Third, what kind of campaigns do you want to run? Some networks specialize in specific campaigns, so make sure the one you pick can accommodate the type of ads you want to run.
Finding the best crypto advertising network can be difficult and time-consuming. Different factors include:
Networks offering the most targeted traffic.

The most bang for your buck.

The best overall value.
Other Advertising Network Options
Adsterra is an advertising network that helps publishers to advertise their products and services. Adsterra offers a wide range of services, including banner ads, text ads, and video ads. They also provide various tools to help advertisers and publishers optimize campaigns and monetization.
Galaksion is a new advertising network quickly gaining popularity among advertisers and publishers. The network offers a variety of features that make it an attractive option for those looking to advertise their products or services or monetize their websites.
Conclusion
In conclusion, there is no clear consensus on which crypto ad network is the best. Each network has its advantages and disadvantages. The best way to find the right network is to do your research and experimentation. Try out a few different networks and see which ones give you the best results.
Grow Your Crypto Business
Introduction While many entrepreneurs focus solely on traditional marketing strategies, there are...
Read More