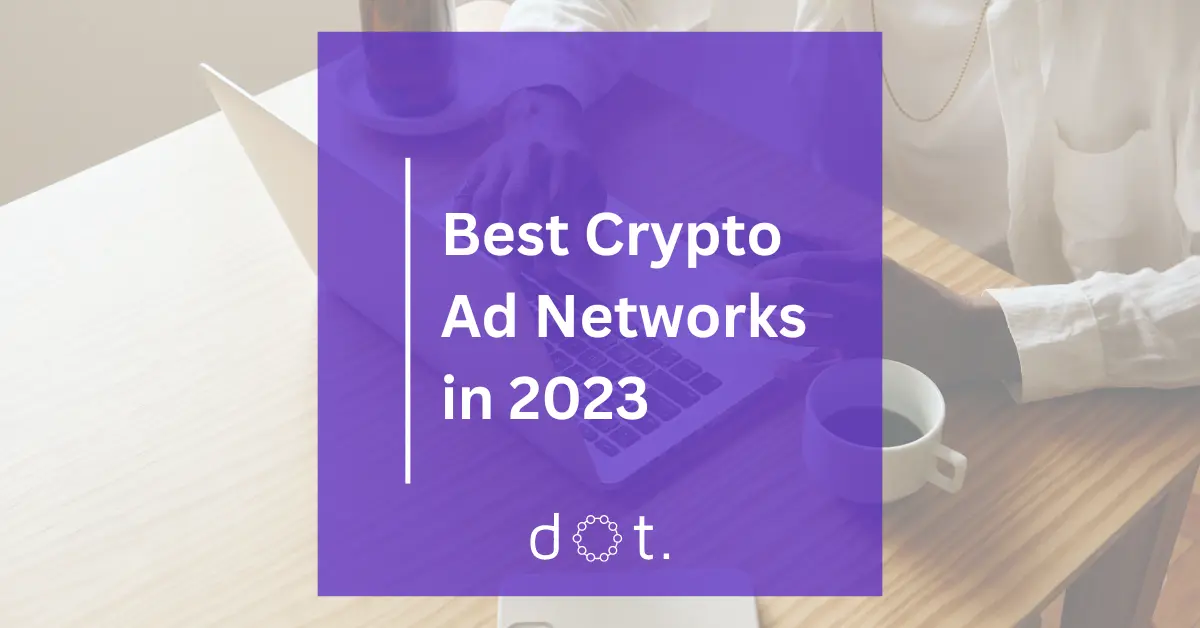 Introduction 
Cryptocurrency has taken the world by storm over the past few years, with the growth of the crypto market fueling interest in the space. However, with this growth has come a corresponding rise in competition, making it more important than ever for crypto businesses to find effective ways to reach their target audience. 
This is where crypto ad networks come in, offering a unique and effective way for crypto companies to connect with potential investors, customers, and partners. In this article, we will explore the world of crypto ad networks, and provide an overview of what they are, how they work, and what the best crypto ad networks are in 2023. 
What are Crypto Ad Networks?
Crypto ad networks are platforms that connect crypto businesses with publishers and websites that display advertising. These networks allow businesses to advertise their products or services to a targeted audience and offer a cost-effective way to reach potential customers and investors. 
Unlike traditional ad networks, which are focused on a broad range of industries, crypto ad networks specialize in the crypto space and provide access to websites, blogs, and social media platforms that are relevant to the industry.
How do Crypto Ad Networks Work?
Crypto ad networks work by connecting businesses with publishers and websites that are relevant to the crypto space. Advertisers create campaigns and target specific audiences, and the network matches those campaigns with available inventory on relevant websites and platforms. 
The network tracks the performance of the campaigns and provides data on impressions, clicks, and conversions, which advertisers can use to optimize their campaigns and reach their target audience more effectively.
What to Consider?
When choosing a crypto ad network, there are several factors to consider, including:
Target audience: Consider the target audience for your business and choose a network that has access to websites and platforms that are relevant.
Platforms: Consider the platforms the network supports, including websites, blogs, and social media platforms. Choose a network that provides access to the most relevant platforms.
Cost: Consider the cost of advertising on the network, and compare it to the costs of other advertising options. Choose a network that offers a cost-effective way to reach your target audiences.
Reporting and analytics: Consider the level of reporting and analytics that the network provides, and select a network that provides data on impressions, clicks, and spending.
Customer support: Consider the level of customer support offered by the network, and choose a network that provides prompt and helpful support.
Best Crypto Ad Networks in 2023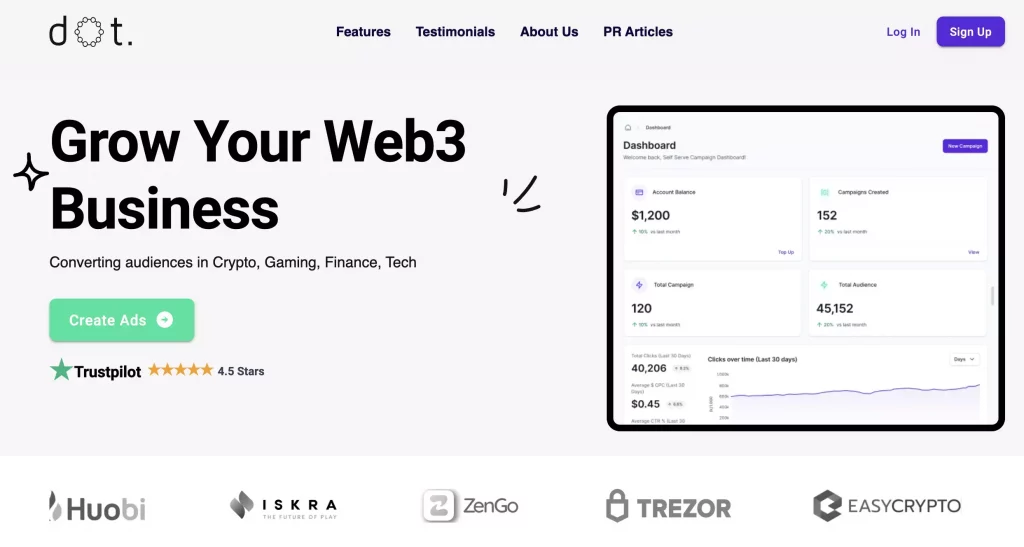 DOT is the #1 UK Based Crypto Ad Network. DOT offers direct access to audiences interested in Crypto & Web3 products, Blockchain Technologies, NFTs, Gaming, and other similar topics. For advertisers seeking a powerful advertising solution and over 175 million monthly readers globally, DOT offers the most comprehensive solution. Hundreds of Web3 brands trust DOT to deliver on their marketing goals.

Advertisers and Publishers benefit from a self-serve platform, flexibility in ad formats, low minimum spends, and 7-day support.
Key Benefits
175+ Million Readers Monthly

Flexible Pricing

Advanced Geo-Targeting & Contextual Targeting Options

Self-Serve Platform

Free Animated Ad Design

Free Sponsored Articles & Press Releases
A-ads is a cryptocurrency advertising network that has been in operation since 2011 and was one of the first to accept Bitcoin payments. It offers both banner and text ads, and a wide range of ad sizes, making it accessible to both large and small publishers. By displaying ads on their websites or blogs, publishers can earn revenue through A-ads.
The network has a relaxed approach to accepting publishers, as the main requirement is that the website must be functional and attract legitimate traffic. There is no limit to the number of pages on a website, nor a minimum number of visitors required. Publishers can easily register for an account and add their website. Whilst great for Publishers, this can however pose a concern for advertisers looking for quality traffic.
A-ads has a good reputation in the cryptocurrency space and is known for its low minimum payout, with no minimum payout required when using FaucetPay, and a minimum of 0.001 BTC for other bitcoin addresses, it is a convenient option for publishers.
Bitmedia is a Ukraine-based cryptocurrency advertising network that reaches over 20 million global users every month and delivers more than 1 billion impressions to its advertisers. 
With a range of ad formats to choose from, including rich media, HTML5, and display ads, crypto advertisers are sure to find an option that suits their needs with Bitmedia. The platform carefully screens both advertisers and publishers to ensure the highest quality for all parties involved. Additionally, Bitmedia offers a price floor option, allowing publishers to only accept high-paying ads that are relevant to their customers. 
CoinTraffic boasts a vast network of over 400 publishers and 1,000 advertisers, driving a substantial volume of traffic and impressions each month. The platform counts KuCoin exchange and Paragon among its most well-known advertisers.
CoinTraffic provides a variety of advertising formats and primarily utilizes cost-per-mile (CPM) and pop-up advertising models to generate revenue. However, it does not offer cost-per-click (CPC) models or affiliate marketing programs. Advertisers can work with dedicated account managers to customize their campaigns to their specific needs.
To maintain the highest level of quality, CoinTraffic is highly selective about the advertising partners it accepts, only approving legitimate crypto projects to appear within its network. This results in a highly targeted audience for crypto ad campaigns. The platform supports both Bitcoin and fiat currencies.
Coinzilla is an advertising network that has been in operation since 2016. The platform provides many advertising options, including display, native, pop-up, and press release advertising, and supports a variety of advertising methods, such as native, cost-per-mile (CPM), and pop-ups.
One of the key benefits of Coinzilla is its flexibility, offering highly customizable options during both the creative phase and the actual advertising process. The company also accepts a wide range of payment methods, including Bitcoin, Ethereum, and fiat wire transfers, and offers a convenient weekly or monthly payment schedule. 
Additionally, Coinzilla offers a referral program, allowing users to earn 10% by bringing in eligible customers. However, Coinzilla is known to be on the costly side for advertisers which can limit the potential for a good return on marketing spend. That said, for businesses with large ad budgets or those looking for general brand awareness without a focus on cost per conversion, this might not be an issue.
To help provide better results for its clients, Coinzilla only accepts websites that meet certain standards, including websites older than three months, with fast loading times and user-friendly interfaces. 
Which Crypto Ad Network is Best?
Many factors could influence this depending on your needs. Are you conscious of reaching quality crypto audiences on a limited budget? Is cost per conversion a priority or are you more interested in maximum exposure regardless of cost? Does the availability of support matter to you?
If you are looking for a network with quality traffic, an easy-to-use self-serve platform, and low-cost options then DOT is likely the best option on this list. DOT also offers 7-day support and strategic guidance if needed. That said, if you have a large ad budget and are looking for the widest possible reach Coinzilla could be your best choice. Finally, if you are interested in pop-up ads then CoinTraffic could also be interesting to investigate.
We believe the DOT network offers the best balance of quality reach, user-friendliness, and cost but ultimately it is important for you to do your own research, weighing up your own needs and budget requirements.
Conclusion
Crypto ad networks offer a unique and effective way for crypto businesses to reach their target audience and are a cost-effective alternative to traditional advertising methods.
By choosing the right network, businesses can reach their target audience, build brand awareness, and drive sales and investments. With the continued growth of the crypto market, crypto ad networks are a valuable tool for companies looking to succeed in this dynamic and rapidly-evolving space. Taking all factors into consideration, the DOT crypto ad network offers the best balance between cost and reach.
Grow Your Crypto Business
Introduction While many entrepreneurs focus solely on traditional marketing strategies, there are...
Read More