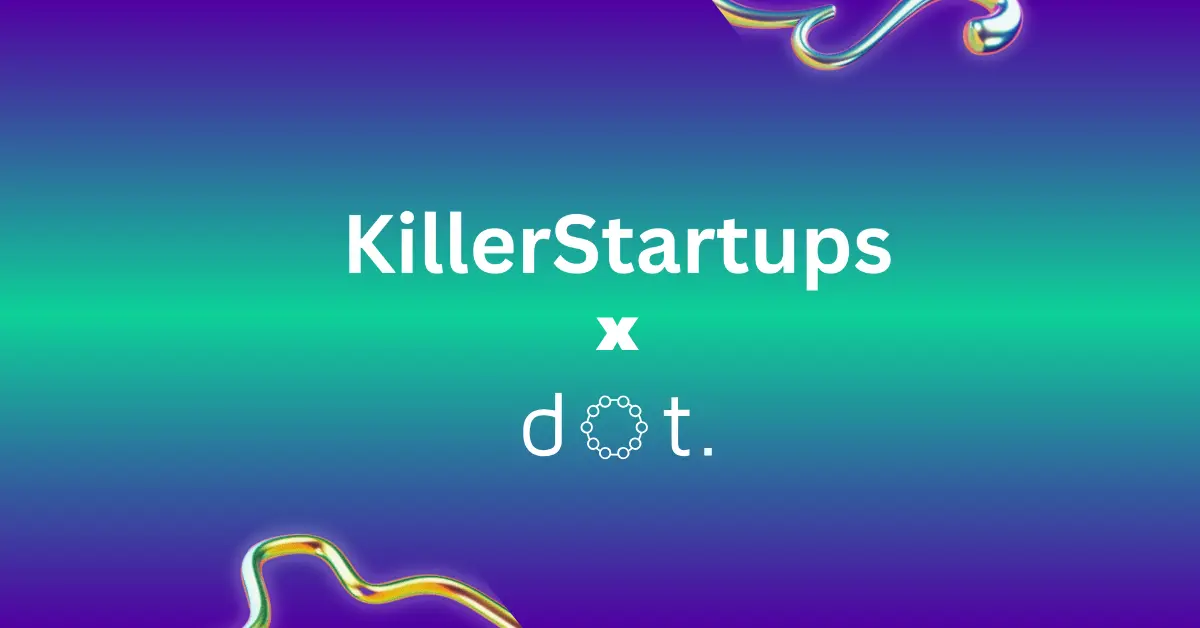 Article originally published on KillerStartups.
In a world where giants like Google and Facebook dominate digital advertising, small startups often find it challenging to get their message across.
That's where DOT, a London-based self-serve advertising platform, solves a pressing problem in the web3 space. In this article, we'll delve into the origins, mission, and aspirations of DOT, the advertising platform aiming to become the Google Ads of the web3 universe.
Problem the Startup Solves
The story of DOT begins with a problem. In the ever-evolving web3 space, traditional advertising channels like Google Ads and Facebook Ads are often out of reach for emerging businesses.
Recognizing this gap, DOT was born in 2020 with a mission to provide a tailored and effective advertising platform for web3 companies.
Meet the Innovators
DOT, founded by Nick Price and Abel Maloum, is headquartered in London. Nick Price, a co-founder with a strong presence on LinkedIn, and Abel Maloum, another co-founder with a notable online profile, have joined forces to bring their vision to life.
Their startup, DOT, offers a self-serve advertising platform accessible via dotaudiences.com.
The DOT Experience
DOT's "Grow Your Web3 Business" one-liner encapsulates its purpose. Since its inception, the startup has successfully launched a new platform. It empowers partners with the autonomy to target their audience and manage campaigns seamlessly.
Furthermore, they're introducing "Appboost by DOT Ads," a solution to drive more app installs for their partners.
DOT primarily focuses on scaling and expanding its solution, aspiring to make a meaningful impact across a broader audience in the web3 ecosystem.
The Human Adventure Behind DOT
While there might not be a specific anecdote, human adventure is the most inspiring aspect of building DOT. DOT's team is international, with members spread across three continents. Each member brings a unique and positive element to the table.
They are united by a joint mission, believing in the importance of excellent work, attention to detail, and progress in the web3 space.
This team's camaraderie is evident in their hard work, mutual support, and ability to enjoy the journey. Being a part of this team is considered a privilege.
Role Models
DOT looks up to Zapier for inspiration. This automation solution significantly helped DOT during its early days when it was just two co-founders juggling everything.
The power of automation, primarily through Zapier, has been a game-changer for DOT. The company admires Zapier for its top-notch technology and world-class support.
The Vision for the Future
DOT aims to become the Google Ads of the web3 space in four years. They aspire to be the top solution for contextual advertising, empowering marketers and founders in the web3 ecosystem.
As the web3 space continues to evolve and become mainstream, DOT envisions itself as the go-to partner for all businesses, contributing to the growth and success of this exciting ecosystem. This is the mission that fuels DOT's journey.
Conclusion
In conclusion, DOT is not just an advertising platform; it's a beacon of hope for emerging businesses in the web3 world.
With a dedicated team, an inspiring mission, and the ambition to make a significant impact, DOT is poised to revolutionize web3 advertising.
In four years, we might very well witness DOT achieving its goal of becoming the leading force in the web3 advertising arena.
Grow Your Crypto Business
Article originally published on KillerStartups. In a world where giants like Google...
Read More