Case Study
DOT x Konis Technology Co.
A media group featuring crypto websites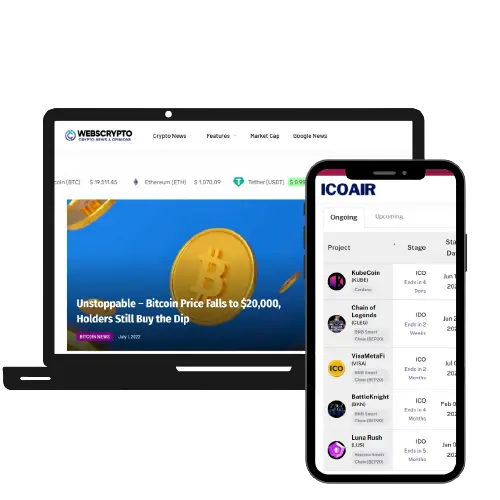 "DOT is our trust-worthy partner that supported our growth even through the bear market!"
Konis Technology Co. is a media portfolio of crypto and blockchain industry-related websites such as Webscrypto, CryptoIcoAir and Cryptotypist.
Their editorial team brings the latest crypto news to enthusiasts around the world, including topics such as NFT, Metaverse and Airdrop Events.
Konis Technology Group (including WebsCrypto, CryptoIcoAir and Cryptotypist) wanted to expand their reach. They sought to change their strategy and transition towards a Tier 1 traffic focus. They approached DOT seeking effective ad technologies that would allow them to grow their revenue and enlarge their audiences in this geo.
Using DOT's Fusion formula (including both programmatic and direct advertising), Konis Technology Group doubled their traffic (for WebsCrypto), achieved 2X revenue, and high fill-rates!
"With DOT, we quickly started to expand towards Tier 1 traffic. We were able to achieve fantastic revenue growth and high fill-rates. What's more, we had the DOT team to support us throughout the entire process!"
The Solutions
1. Access to DOT | Fusion Ad Demand

Fusion Technology including Ad Demand from both Direct Sources + Programmatic ensures sky high CPM's and Fill Rates.
2. Access to DOT | Analytics Portal

The DOT | Analytics Portal provides Konis Technology Group with superior insight into earned ad revenues and engagement metrics. 24/7 progress monitoring for all their websites.
+257%
More Ad Impressions
"We wanted to improve our strategy and move towards Tier 1 traffic. DOT was extremely helpful to us in reaching our goals, and we're happy to be expanding within Australian and American markets."
"DOT became our #1 monetisation partner, in only 3 months!"
Introduction While many entrepreneurs focus solely on traditional marketing strategies, there are...
Read More