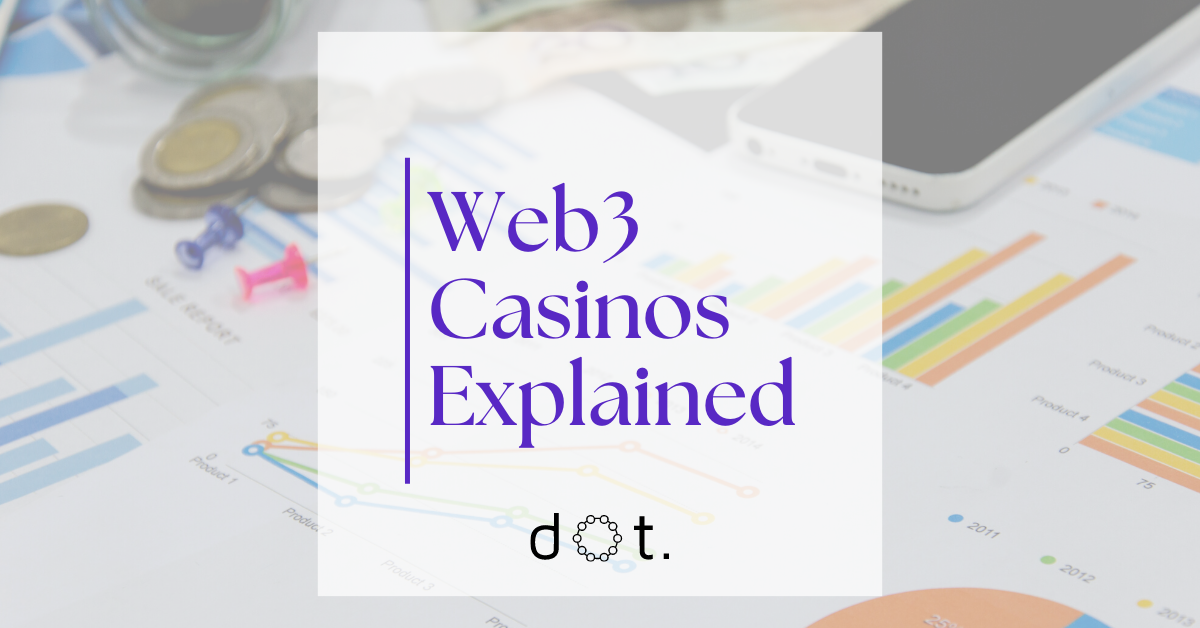 Online casinos that use blockchain technology and cryptocurrencies are known as "Web3 casinos" or "crypto casinos". The first Web3 casino was released to the market in 2017 on the Ethereum blockchain, since then, the technology has advanced dramatically. 
TL;DR
The first decentralized Web3 casino, called Edgeless, debuted in 2017. Web3 Casinos have since evolved drastically.

Some advantages of Web3 casinos include: fairness and transparency, possibility to wager anonymously, security, efficiency and speed, and accessibility.

Many Web3 casinos use DeFi protocols to drive the advantages highlighted
History of Web3 Casinos
With the debut of the first decentralized casino, called Edgeless in 2017, Web3 casinos initially became popular. Blackjack was the sole game Edgeless offered, and it let users wager using Ether (ETH), the Ethereum network's coin.
The blockchain-based gaming platform developer FunFair Technologies introduced its own Web3 casino platform that same year. FunFair featured a variety of features, such as rapid payouts, player prizes, and an intuitive interface, and allowed developers to create their own casino games.
Since then, popular casino games like roulette, baccarat, and slots have been added to the Web3 casinos' expanding selection of games.
These casinos have also advanced in terms of security and fairness measures, with many casinos now utilizing smart contracts to guarantee openness and discourage fraud.
Beyond Ethereum, emerging blockchain technologies like Tron, EOS, and Binance Smart Chain have also been utilized by Web3 casinos. These systems are more appealing to Web3 casino operators and players because they provide quicker transaction speeds and reduced fees.
Advantages of Web3 casinos
The openness and impartiality of Web3 casinos is one of their main benefits. All game results are verifiable and cannot be changed by the casino or players thanks to the usage of blockchain technology.
In addition to openness and impartiality other main advantages include;
Fairness and transparency: Web3 casinos leverage blockchain technology to give its customers fairness and transparency. By using smart contracts, it is possible to prevent game outcome manipulation and to make sure that every transaction is recorded on the blockchain.

A player can wager anonymously at Web3 casinos without having to divulge any personal information or proof of identity. Those players who cherish their privacy may find this to be very appealing.

Security: Web3 casinos are significantly safer than conventional online casinos since they run on decentralized blockchain networks. All transactions are encrypted and untouchable thanks to the usage of encryption.

Efficiency and speed: Web3 casinos process transactions far more quickly than conventional online casinos. This is due to the fact that they are exempt from the same regulatory and administrative procedures as conventional casinos.

Lower fees: Due to the usage of cryptocurrencies and blockchain technology, Web3 casinos frequently have lower fees than conventional online casinos. Those gamers who seek to optimize their gains may find this to be extremely advantageous.

Accessible to players worldwide: Regardless of where they are in the world, gamers can visit Web3 casinos. This is due to the fact that they work on distributed networks that are not confined by geographical boundaries.
Overall, Web3 casinos provide players with a number of advantages, such as accessibility, security, and transparency. Future developments are likely to bring about even more benefits as technology progresses.
DeFi in the Web3 casino space
The adoption of decentralized financing (DeFi) protocols is another significant advancement in the development of Web3 casinos. These protocols let users borrow money to play additional games and earn interest on Bitcoin deposits.
In addition, players can increase the value of their cryptocurrency deposits, borrow money to access more games, and even receive bonuses for staking their tokens on the casino site.
Decentralized financing adoption (DeFi) in Web3 casinos has also been a significant development in the sector. Decentralized financial applications (DeFi), also known as distributed ledger technologies (DLTs), employ blockchain technology to operate independently of conventional financial institutions.
DeFi protocols are used in Web3 casinos to allow users to borrow money to play more games, earn interest on cryptocurrency deposits, and even receive prizes for staking their tokens on the casino platform.
The following are some of the ways that Web3 casinos are implementing DeFi:
Yield farming: In yield farming, cryptocurrency is deposited into a DeFi protocol and interest is earned on the deposit. In Web3 casinos, yield farming enables patrons to wager their tokens while simultaneously earning interest on their deposits.

Using liquidity pools, it is possible to trade between various cryptocurrencies. Liquidity pools in Web3 casinos enable players to switch between several tokens and currencies, simplifying wagering and money management.

Decentralized lending: Through the use of decentralized lending protocols, participants can borrow cryptocurrency in exchange for their current deposits. Players who want to play additional games but don't want to take money out of the casino may find this to be extremely helpful.

Staking: To gain rewards, staking entails locking up cryptocurrency tokens. Staking is a method employed in Web3 casinos to gain benefits for contributing liquidity to the casino platform or taking part in governance decisions.
DeFi's use in Web3 casinos has a number of advantages, including enhanced efficiency, lower costs, and transparency. DeFi protocols increase player access to Web3 casinos by allowing players to borrow money to play additional games and earn interest on their deposits.
We are probably going to see even more cutting-edge use cases for DeFi in the Web3 gambling sector as the technology keeps developing.
Examples of top Web3 Casinos
Conclusion
It's conceivable that we will witness additional technological developments as Web3 casinos increase in popularity, including the incorporation of virtual reality and the use of artificial intelligence to enhance gameplay and user experiences. 
Web3 casinos have a relatively short history, although technology has advanced quickly since the original launch in 2017.
If we know anything, it's likely the industry will continue to innovate to improve consumer experiences, ease of adoption, security, and overall user satisfaction.
Did you know?
DOT Ads has been used by some of the world's leading Crypto & Web3 casinos to boost growth, and reach new players. Brands like BetSpider saw a 4x increase in relevant website users in 7 days (see Betspider's case study).
They were previously blocked by Google Ads and needed options, fast. Want to know more? Create a DOT Ads account free.
Grow Your Crypto Business
Article originally published on KillerStartups. In a world where giants like Google...
Read More