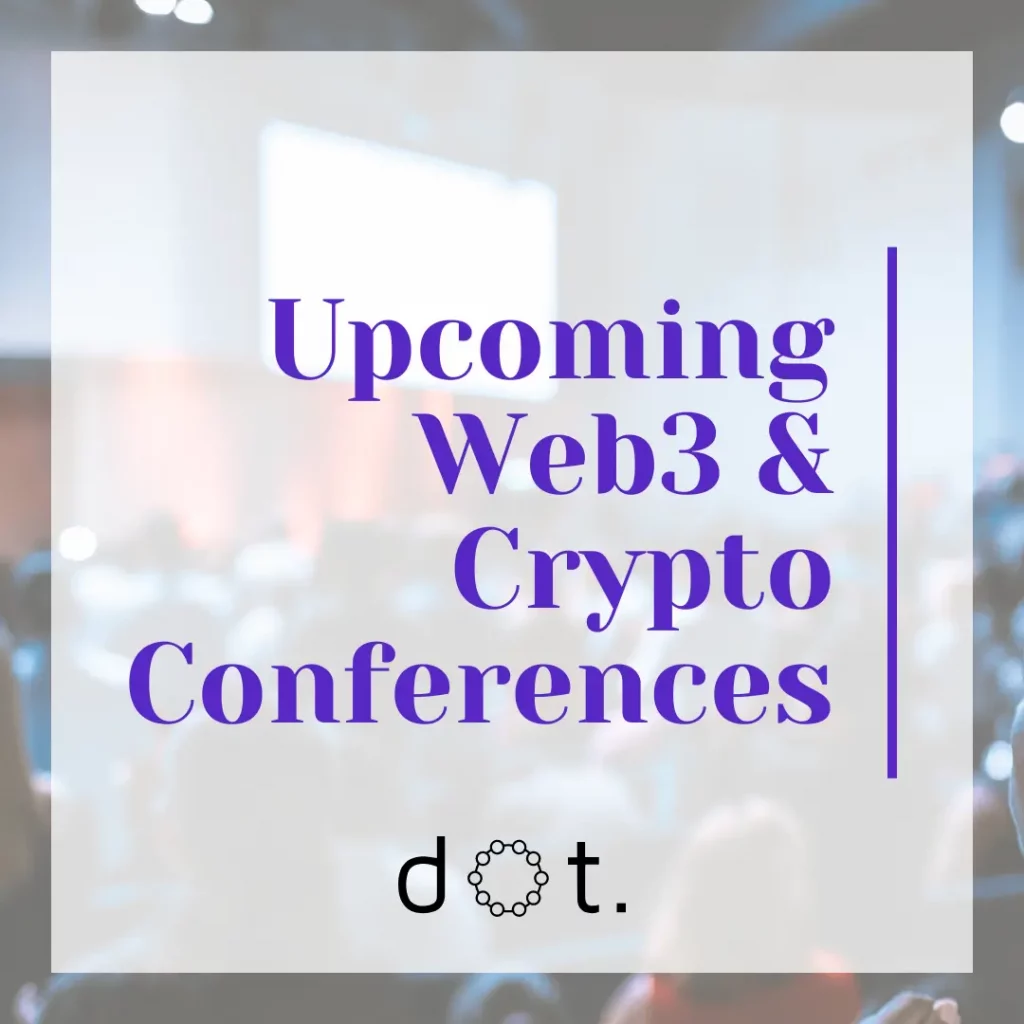 Upcoming Conferences: November & December 2022
Attending web3 & crypto conferences and events is a fantastic approach to gain knowledge, network with relevant people in the industry and find new business opportunities. We know 2022 is reaching its end, but the crypto space is still very much abuzz with activity.
Here are 7 upcoming conferences to look at. For this list we went global – Europe, US and Thailand, covering the months of November and December of 2022. 
Token2049

Finance Magnates London Summit

Next Block Expo

DCentralCon

Blockchain Expo

Future of Crypto

World Blockchain Summit
1. Token2049
Where?
London, UK.
When?
9-10 November 2022.
What? 
Token2049 is the premier web3 & crypto conference, organized annually in London and Singapore (next year!), where leading web3 founders and executives share their view on the market. The point is to shine a light on the global developments, while taking a unique and widening perspective on the ecosystem and its vast opportunities.
​Token2049 brings together the global crypto industry, uniting entrepreneurs, investors, developers, industry insiders and global media – and creates unparalleled networking opportunities.
Speakers?
Miles Anthony, Founder and CEO at Decentral Games. Stani Kulechov, Founder and CEO of Aave. Kathleen Breitman, Co-Founder at Tezos. & many more! 
Follow Token2049 on Twitter for updates. 
2. Finance Magnates London Summit
Where?
London, UK.
When?
21-23 November 2022.
What? 
FMLS22 brings together fintech giants, the fastest growing newcomers and innovative startups. It's a great opportunity to discuss the future of finance, as there's going to be debates around fintech's biggest ideas, connecting professionals and generating business opportunities.
Speakers?
Vladimir Krupnov, Threat Intelligence Lead at Revolut. Kimberly Waldron, Co-Founder & MD at SkyParlour. Christian Frahm, CEO & Founder at United Fintech. & many more! 
Follow Finance Magnates on Twitter for updates.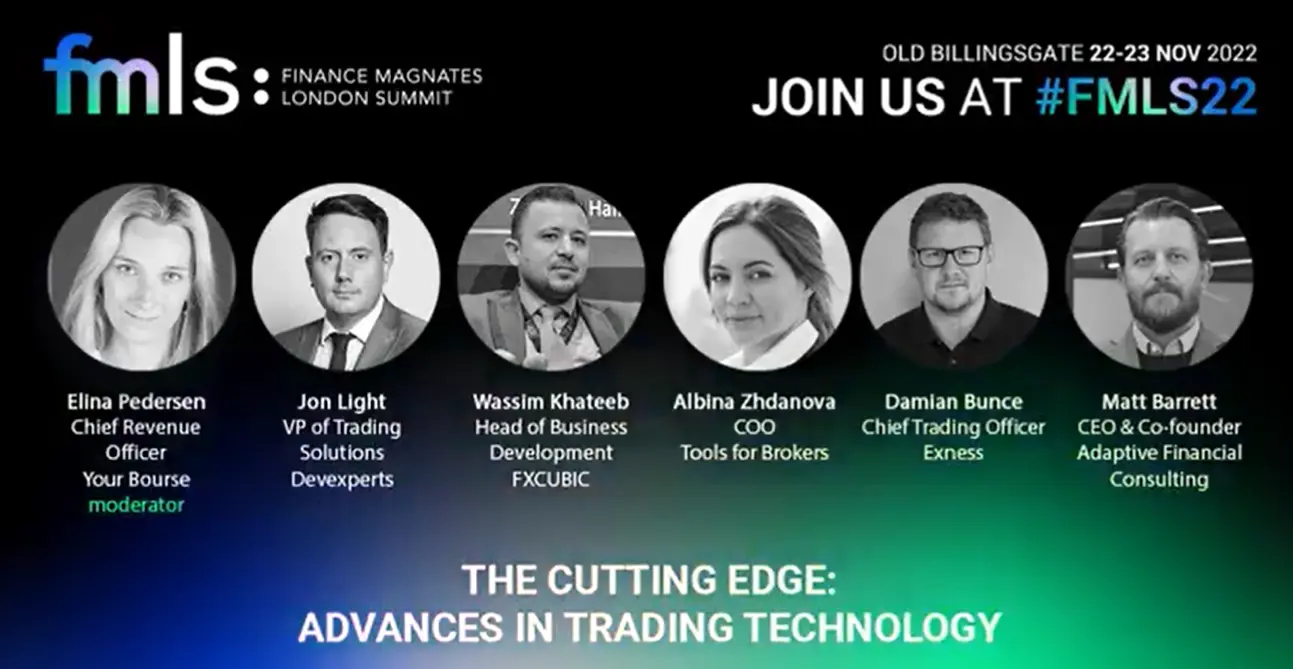 3. Next Block Expo
Where?
Berlin, Germany.
When?
23 – 24 November 2022. 
What? 
NBX is the Blockchain Festival of Europe. It's a 2-day event that will inspire, entertain, educate and allow participants to build a solid network with like-minded builders, investors & web3 enthusiasts.
Founders, investors, community builders, and technology experts will talk about the newest trends in Web3, cutting-edge blockchain technology, and how they see the crypto markets evolving in the future.
There will be an engaging conference – with roundtables, workshops, a hackathon and networking events. Industry experts come together to discuss the most critical topics in DeFi, Blockchain Gaming, NFTs & Metaverse, Infrastructure and Investing.
Speakers?
Raza Zaidi, Regional Lead Europe Developer Relations at Polygon. Michela Silvestri, Institutional Unit at Huobi Global. Jason Choi Co-Founder at Tangent. & many more!
Follow Next Block Expo on Twitter for updates. 
4. DCentralCon
Where? 
Miami, Florida, United States.
When? 
28 – 29 November 2022.
What? 
DCentral brings all of Web3 together during the largest Art Festival in the US. They connect DeFi, NFT, DAO and everything web3-related in one place to learn and connect. Over 30+ protocols will join the 2-day conference. 
DCentral is also the largest community-based, multi-chain crypto and Web3 events facilitator focusing on DeFi, NFTs, GameFi and DAOs. For the event, they invited over 300 speakers and more than 150 exhibitors, for a unique blend of crypto knowledge & entertainment. 
Speakers?
David Schwartz, CTO at Ripple. John Nahas, Vice President of Business Development at Ava Labs. Maliha Abidi, Artist and Founder at Women Rise. & many more! 
Follow DCentral on Twitter for updates. 
5. Blockchain Expo
Where? 
London, UK.
When? 
1-2 December 2022. 
What? 
The world-leading Blockchain Expo series will arrive at the London Olympia on the 1-2 December 2022 to host its sixth annual Global event. It will bring together key industries from across the globe for two days of top-level content and discussion across 6 co-located events with IoT (Co-Locating 5G), AI & Big Data, Cyber Security & Cloud, Edge Computing and Digital Transformation Week.
The best part? It's FREE and you can attend it online as well.
Speakers?
Lavinia Osbourne, Founder at Women in Blockchain Talks. Toby Gilbert, CEO & Co-founder at Coinweb. Chana Kanzen, Founder at London Women Leading Web3. & many more!
Follow Blockchain Expo on Twitter for updates.

6. Future of Crypto
Where? 
New York City, United States.
When? 
7 December 2022. 
What? 
Benzinga is organizing a must-attend event in NYC, called The Future of Crypto, which will be attended by the brightest minds in the crypto industry. 
This is the type of event where you could learn the name of the next big 10x investment and connect with some of the most influential people in finance and business. Benzinga recruited top Crypto experts, CEO's, entrepreneurs, executives. They will share their best ideas and thoughts on everything happening with the future of digital assets. 
Speakers?
Jordan Belfort, CEO at Jordan Belfort. Amelia Daly, Head of Partnerships at Solana Foundation. Josh Fraser, Co-founder at Origin Protocol. 
Follow Benzinga on Twitter for updates. 
7. World Blockchain Summit
Where? 
Bangkok, Thailand.
When? 
8 – 9 December 2022.
What?
World Blockchain Summit is a global series of elite gatherings that take place in 16+ destinations across the world. This year's edition is taking place in Bangkok.
It is a thought-leadership-driven initiative that brings together the most important stakeholders from the Blockchain and Cryptocurrency ecosystem such as investors, blockchain and crypto projects, exchanges, enterprises, to discuss the future of the industry and the revolutionary ways it can transform businesses and government functions.
The summit also features inspirational keynotes, pitch competitions, panel discussions, investor meet-ups, project showcases, industry use-cases, etc. 
Speakers?
Daniel Oon, Head of DeFi at Algorand Foundation. Irene Umar, Co-Founder at YGG SEA. Marouen Zelleg, Director Defi & Wallets at Consensys. 
Follow the organizers on Twitter for updates. 
Without a doubt, people still believe in the crypto & web3 space. Regardless of the bear market, events and businesses are flourishing, and we're excited for what's in store! 
Grow Your Crypto Business
Introduction While many entrepreneurs focus solely on traditional marketing strategies, there are...
Read More