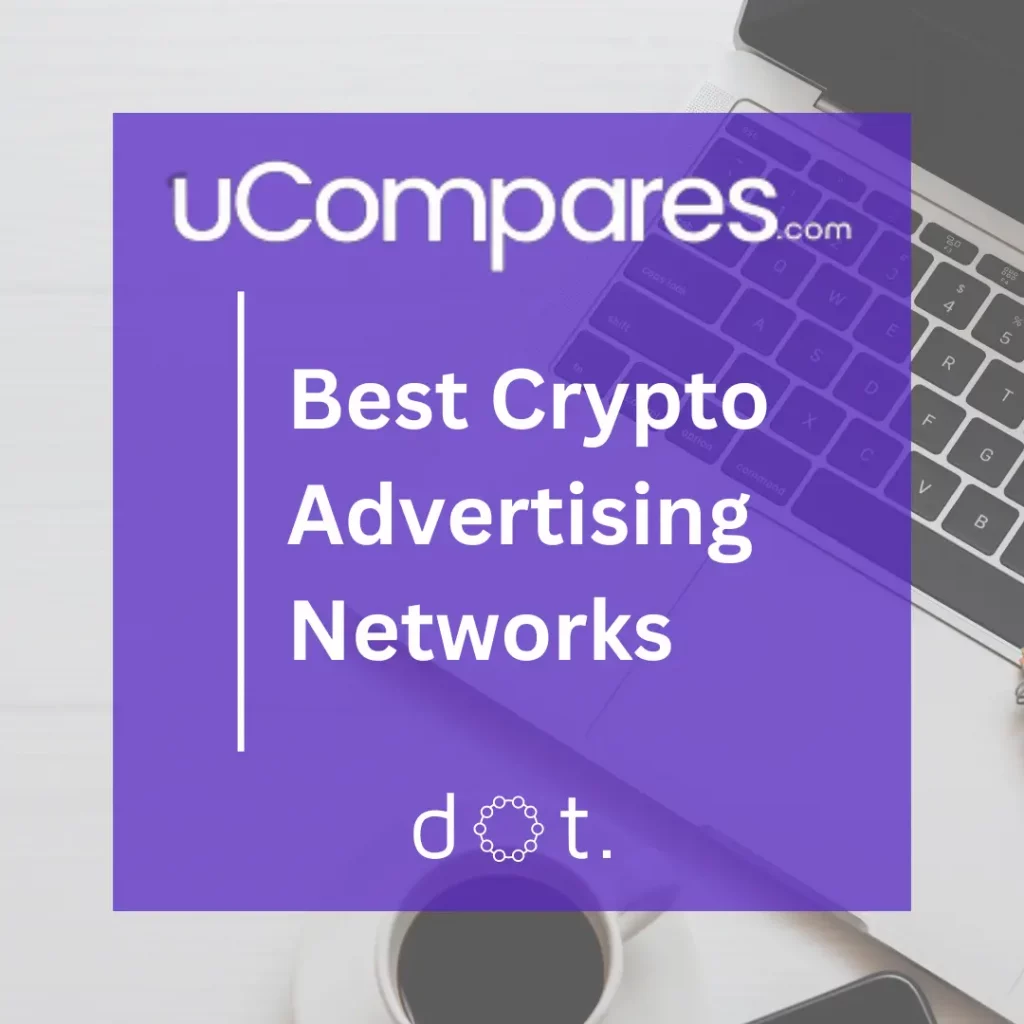 List originally published on uCompares. 
Best Crypto Ad Networks
Nowadays, it is very competitive for the Crypto Ad Networks to grow itself as social media platforms like Facebook, Twitter, Google, LinkedIn have banned all ads, banners, products, and services promoting cryptocurrency.
So, it's a good idea to look at the Crypto Advertising networks targeting the crypto audience. Because using those Ad Networks, you can reach your Crypto Targeted traffic at cheap rates. There are many Crypto News websites and blogs that have millions of traffic.
Peoples come to those sites every day to read crypto news and updates. Crypto Ad Networks are partnered with those famous websites and help you place your Ads on famous sites to help you get targeted traffic. Using those Ad Networks, you can easily promote your products and services in front of crypto users.
A Gateway to Access the Best Crypto Ad Networks 2022
From 2017 to 2018, Crypto ad networks benefited a lot from the people who have invested through those networks and successfully made great wealth which is the reason for their interest.
Because most of the big platforms are still banning the ads related to cryptocurrency as they consider it a source of money laundering, they have banned the ads and banners that promote the initial Coin offerings (ICOs) and crypto companies.
This gape has been filled with Crypto Ad networks' help that focuses mainly on promoting products and services related to Crypto Ad Companies. Still, some particular Top Crypto Ad networks have made a big investment and have the power to bypass these bans by rephrasing the ads.
The reason for rephrasing is that these networks have struggled to maintain stern policies to get approval from the big websites and platforms.
Top Crypto Ad Networks that you must use for Promotion
There is a list of useful and best Crypto Ad networks that will help publishers and advertisers promote their business. Some of the Networks are also the Best Ad Networks for Small Publishers.
No Matter, even if you have very small targeted crypto Traffic, you can monetize your website with these Ad Networks and earn bitcoin from your blog or website.
Most of the Networks are based on the Cost per click model. You can find more Best CPC Ad Networks that you can use to monetize your website.
These networks are the best source for growing traffic towards the website as it delivers targeted traffic to your website and saves you time. In this way, by interacting with the real people who are really interested in viewing and purchasing your product.
Best Crypto Ad Networks 2023
Here is the list of best Crypto Ad networks for publishers and advertisers that you Join in 2022 and 2023. 
BitMedia
EZmob
Coin.Network
DOT
Ad Dragon
Adshares
A-Ads.com
Cointraffic
CoinZilla
TokenAd
Bitraffic
AdEx
CoinAd
PropellerAds
CryptoAdsManager
Mellows Ads
AdBit.
1- BitMedia.io – The #1 Crypto Ad Network
BitMedia is an Ad Networking company established in 2015 and has been really popular ever since it was founded. Its fame is because of all the benefits and features that it is providing to its advertisers and publishers.
It comes as no surprise that this crypto ad network is racking more than 1 billion impressions each month along with more than 20 million unique visits. The website is currently running more than 20 thousand ad campaigns providing the all-in-one solution to all of its users. It has a great feature of an advanced algorithm that uses AI to show the ads to the related users.
It highly supports both CPC and CPM campaigns and gives you quality traffic by connecting you with real people. It is currently dealing with more than 5000 Crypto related websites having the capability to bring more than 1 Billion Impressions.
Benefits of Using BitMedia:
Instant Payouts.
Fastest Growing Market.
Up to 10% Commission Share in their Referral Program.
Multiple Ad formats.
Availability of support team 24/7.
Along with many others.
Payment Details:
They also provide flexible models for pricing.
Availability of using Bitcoin as a payment method for all transactions.
For publishers, the minimum amount of withdrawal is 0.001 BTC.
2. EZmob – Best Crypto Ad Network
Ezmob is one of the best Mobile Advertising Network For advertisers and publishers as well. EZmob is the best crypto advertisement Network. You can purchase mobile traffic, set up operations utilizing a self-serve interface, and influence the genuine intensity of bidding in real-time. Ezmob is a full package mobile advertising company with both driving edge innovation and profound aptitude in strategy making.
Ezmob allows you to make the right decisions and value your time and efforts. They have Primum publishers and traffic from all over the world, and they can help you to get targeted traffic from over 160 countries.
EZmob has been paying publishers based on CPM, CPC, CPV, and CPI formats. They pay monthly and are always on time, that's why thousands of publishers and advertisers trust ezmob. This is one of the best ad networks for publishers and advertisers to join.
Payment Details: 
Minimum Deposit For Advertisers: $100
Minimum Payment For Publishers: $100
Payment Methods: PayPal, Credit Card, Paxum, Wire Transfer, Skrill.
Payment Frequency: Net 30.
Monetization Options: CPM, CPC
3. Coin.Network – Fastest Growing Crypto Ad Network
Coin.Network is a crypto advertising network that has over 50 million monthly active users in its display network and brings in over 1 billion monthly ad impressions. Owned by popular privacy- and context-focused advertising platform BuySellAds, Coin.Network is a perfect fit for crypto-focused brands who want to reach niche crypto communities and partner with more than 20+ crypto websites to run engaging campaigns.
Coin.Network has a sizable experience to back up these huge numbers. It was the first company to enable Bitcoin ad payments for Reddit in 2014, and since then, it has become Blockchain.com's exclusive ad partner. They also sold the first crypto newsletter sponsorship in 2020.
Advertisers and publishers both have value to gain by partnering with Coin.Network. Advertisers can customize which audiences see their ads depending on geo, interests, and industry. And publishers can leverage control, choose to work with Display or Native ads, and select between programmatic and directly sold. The platform offers a full-stack management suite, and an ad ops team is always responsible for ad management and campaign optimization.
Benefits of partnering with Coin.Network:
One of the first crypto native networks with over 10 million monthly active users.
Option to choose between native or display ads to connect with users.
Dedicated account manager for support and to work through the technicalities
Payment Details:
Net-30 payment terms with multiple payout options.
Availability of USD ($), BTC (Bitcoin), ETH (Ethereum), and LTC (Litecoin) as payment methods.
Other cryptos are also accepted upon request.
4. DOT – Top Crypto Ad Network
DOT is the #1 UK based crypto ad network & marketing solution for Crypto & Web3 businesses. DOT is used by thousands of advertisers including Huobi, BC.Game, EnjinStarter, & Koinly, to access crypto-interested audiences at scale. Target by geo, content theme, device type, and more for the highest target reach and return on investment.
Premium publishers & positions are at the core of DOT's network. Partners include Benzinga, ForexLive, FinanceMagnates, Be[in]Crypto, and hundreds of others.
Receive free bonus credits with every campaign to spend on sponsored articles, press releases and other brand building tools to boost SEO and brand impact.
Campaign support is provided 7 days per week as standard to ensure setup, strategy, and testing, are smooth and bring excellent results. The DOT team are available via all main channels including over the phone, Telegram, Email, & Skype.
DOT's in-house design service offers free animated creatives, and the ability to run additional units for the purpose of A/B testing.
Many payment options are available, including BTC (Bitcoin), USDC, USDT, ETH, and fiat currencies (USD, EUR).
See The Complete & Detailed uCompares DOT Review here.
Key Benefits:
Thousands of Crypto Advertisers choose DOT
175+ Million Readers Monthly
Advanced Geo Targeting & Contextual Targeting Options
Free Ad Design
Free Sponsored Content
Flexible Pricing. Pause or cancel anytime.
Discover DOT Case Studies & More
5. Ad Dragon – The world's first DeFi Ad Platform
Ad Dragon is launched recently in 2019. So it is a brand new Crypto ad network. It doesn't deal with the ad exchange but supports online ad marketing. It is completely different from other Crypto Ad networks. It is the world's first DeFi advertising platform that has grown to be the world's top online marketplace for advertising services in a short period of time.
Due to its unique features, the platform is the best alternative to Google Adsense or Coinzilla. The platform aims to completely change the online industry and achieve the goal; they have introduced a new marketing model; peer-to-peer advertising via an online marketplace. Moreover, to make things easier for the customers, they use cutting-edge blockchain technology.
Ad Dragon is a peer-to-peer advertising marketplace just like Amazon or eBay. Still, the difference is that in place of selling physical products, Ad Dragon sells advertisements from independent media, content creators, and influencers who join the platform as advertisers (publishers).
For advertisers, the platform provides a superb ecosystem for getting huge ROI (Return of Interest), plus they emphasize giving the best results by bridging the gap between advertisers and publishers. They act as intermediaries between buyers and sellers and make the whole process more secure and transparent.
By joining Ad Dragon, publishers can also get a wide range of benefits, including instant and automatic crypto payments, publishers' control over prices, and solutions to various marketing problems. You will be surprised to know that the platform keeps only 5% commission on publishers' earnings, whiles the remaining 95% is for publishers themselves.
Payment Details:
Email: 

[email protected]

Commission Type: CPM (Cost-Per-Millie)
Minimum Payout Threshold: $50
Payment Frequency: Net30, Monthly
Payment Method: Ethereum.
6. Adshares – Transforming Advertising Ecosystem
 Adshares starts with a very small scale but much experienced and specialized in blockchain solutions. The Adshares is based on the blockchain advertising network, and this network allows direct deals to publishers and advertisers.
It provides a great platform for the publishers and advertisers to directly link with the customers without any third party. Adshares offer clear, low-cost, and censorship-free advertising to users. Adshares safe ADS blockchain has the capability to process over 1 million transfers per second, which makes it possible for it to serve the international advertising market.
Adshares is also known as one of the most advanced projects. It helps to solve different problems in the digital advertising market. Its focus is mainly on the advertising ecosystem,m which means advertisers and publishers share the ads and pay through cryptocurrencies. Adshares can help publishers monetize their Adblock traffic,c, so that is why Adshares is the best Ad Network for publishers to earn more money.
The best thing is Adshares Ads only works whenever any users activate Adblocker. It allows their publishers to earn instantly and receive payments every hour.
Payment Details:
Eliminating intermediaries from the advertising ecosystem gives both the advertiser and the publisher many clear benefits. Combined with some unique features, Adshares offers a very interesting set of advantages over traditional digital advertising systems:
Significantly lower fees (no middlemen = open ecosystem in which publishers and advertisers can make direct deals meaning lower commissions)

Decentralization of ad servers and innovation in ad delivery serves to minimize the possibility of ad blocking

Almost instant payments, transfers from advertisers to publishers are made automatically every hour

 

Transparency and increased freedom, no middlemen who can censor or block content. The publisher is the one who decides what content can be displayed on their website

Newmarket structure, Real-Time Settlement as a replacement for complicated and expensive Real-Time

Availability for small advertisers — no need for significant funds to join the network.
7. A-Ads.com – Bitcoin Advertising Network
 A-ADS is one of the first crypto advertising networks on the market; it exists since 2011 and maintains a perfect business reputation since then. Currently, A-ADS is extremely popular – you can see in open and clear statistics that they gain around 80 million impressions per day.  Their core proficiency is crypto traffic and advertising of crypto-related projects.
If you have a crypto-gambling, exchange, or ICO of any sort, you'll probably choose A-ADS.  A-ADS network is convenient for advertisers. Campaign creation is quite simple, and the approval process is fast. There are various options to adjust campaigns for the best performance: you can use geo-targeting, filter undesired sites, adjust maximum CPM for a campaign, and so on. A-ADS is a great choice for publishers too.
It is practical for bloggers, for old sites with big traffic as well as for new and small ones. Even if you own a faucet or a blog on Blogspot and have human traffic, you are welcome to join the A-ADS network. One of their distinctive features is that a site doesn't need the approval to join.
They offer plain HTML iframes as banners, they don't install any javascript code pieces into your site, and they don't track your site visitors' behavior. The banners are lightweight and visually pleasant, so they won't irritate your visitors and readers. The professional helpdesk team is always ready to help with any difficulties, they respond really prompt, and responses are helpful. Live chat is available on demand.
Payment Details:
Paying system is based on a daily budget: advertiser can pay a certain sum a day and receive a proportional amount of traffic;
They also offer advertisers CPM bids and CPA;
There is no minimum daily budget; you can run a campaign with absolutely any sum;
They accept payments in more crypto-currencies than any other ad network: Bitcoin, Ripple, Qtum, Tether, NEO, Bitcoin Gold, Ethereum Classic, Tron, Verge, BitTorrent, GameCredits, DigiByte, Komodo, Zcoin, Ravencoin, Bitcoin Cash, Dash, Dogecoin, Ethereum, Litecoin, Zcash, BitcoinDiamond, Horizen, PIVX, Stratis, Vertcoin;
Payout method: Bitcoin;
Payment Frequency: automatic, daily;
Minimum payout for publishers: 1 satoshi to Faucethub.io or 0.001 Bitcoin directly to bitcoin address
8. Cointraffic.io – Leading Bitcoin Advertising Network
 Cointraffic is a very famous and excellent Crypto Ad network that is based in Tallinn, Estonia. Cointrffic Crypto Ad network was created in 2014 with the great purpose to serve publishers and advertisers. It facilitates the publishers, advertisers, and investors by publishing banner ads and native ads, which really promotes your website's progress.
Cointraffic is the premium digital advertising partner in the blockchain and Crypto Ad market. It has a variety of advertising format options and efficient tools for optimizing conversion rates. All communications and systems are managed through dedicated account managers who are directly responsible for your campaign's progress.
Cointraffic started its work by putting simply a single piece on a coin, which rushes the number of people towards your ad and thus increases the visitors towards your website. The process of withdrawal is trusted; you would request for withdrawing of your payment any time from cooperative team members of Cointaffic Crypto Ad networks.
Payment Details:
Commission Type: CPM
Minimum Payment: €25
Payment Frequency: Three times per week by request
Payment Method: Bitcoin, Bank Transfer.
9. CoinZilla – Best Crypto Ad Network
Coinzilla is the best and most Popular Crypto Ad Network, launched in 2016, so it is relatively new compared to other advertising networks. It is a part of the AdSelvo advertising industry that has been created mainly for the promotion of the Crypto market by providing it with a complete list of advertising solutions.
This is one of the best Crypto Ad Networks for Advertisers. It deals with CPC and CPM advertising,g which provides various ad formats, banner ads, standard banners, floating banners, native ads, etc. Coinzilla has promoted over 200 brands until it has been released now and supports more than 400 publishers and advertisers to monetize their networks online.
It targets only those websites and CEOs from where targeted traffic is expected. Your website must be professional and attractive to attract a number of audiences. Besides this, it should be approved from the Coinzilla network with an email verification code's help.
This network would reject a website without a domain of 3 months. So your website must be older than 3 months to join the Coinzilla Crypto Ad Network. Its performance won the heart of the audience, as it helps them increase their engagement with the real people and income stream, which is why people consider it trustworthy to invest.
Payment Details:
Coinzilla is punctual in making payments to the publishers on time.
It allows a minimum deposit of €5000 (Wire payment), 0.05 bitcoins, and 0.5 Ethereum payment.
if you are a member of a referral program, so you can get €50 for the deposits
Coinzilla supports deposits and payments in Swift Bank,  Credit card, BTC, ETH, and Webmoney.
It allows you a period of 7 days, after this period they can withdraw their money.
The Website must be user-friendly, with the feature of good loading speed.
10. TokenAd – Crypto Ad Network For Publishers
TokenAd is one of the best Crypto Ad networks for Publishers powered by the RTB advertising industry, which focuses greatly on promoting Crypto Network Ads and products. It supports the publishers and advertisers in monetizing their marketing platforms and websites, blogs, cryptocurrency exchanges, and ICO rankings.
It also supports several ad formats, banner ads, standard and native banners designed to promote your website. It is very easy to use and allows only Crypto ad content to display on the website.
TokenAd deals directly with advertisers and publishers from all over the world and often tends to boost up certain GEOs from time to time. The majority of traffic comes from Brazil, Ukraine, Poland, and Mexico.
Payment:
The amount you pay for traffic depends on your targeted settings, particularly the GEOs you pick instantly.
The minimum deposit to join the Token Ads network is $10,000
Accept payments in Cryptocurrency and in fiat currencies as well.
It supports 25 different languages.
Conclusion
With this article, you will explore several best Cryptocurrency ad networks to work with and earn great profit. You can find more Ad Network Reviews here. If you were thinking before making investments with the Crypto ads platform, you were afraid because of the ban passed by social media platforms.
But now, you need to be relaxed because crypto ad networks have successfully bypassed the banned media and opened a gateway for you to invest without any fear of risk and earn a big profit. So, pick a Crypto Ad Network and move ahead. Good luck!
Grow Your Crypto Business
Introduction While many entrepreneurs focus solely on traditional marketing strategies, there are...
Read More