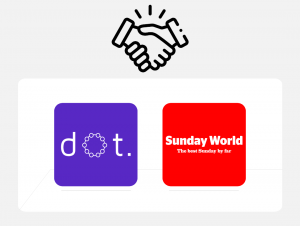 The #1 Africa focused ad company DOT announces a new partnership with SundayWorld.co.za, the premier South African youth and aspirational tabloid-format newspaper.
The partnership aims to improve reader experiences through rapid content load times and better more relevant advertising experiences. Starting this October, sundayworld.co.za will gain full access to DOT's advanced suite of advertising and content tools including Programmatic Header Bidding and also DOT's directly negotiated Brand Partnerships.
By utilising DOT's product suite, SundayWorld.co.za expect to drive significant improvements in their top-line revenue generation capabilities, whilst ensuring all advertising remains content and reader friendly.
About DOT (DotAudiences.com)
Founded in 2018, DOT grew from a desire to change digital advertising from the intrusive to the engaging. DOT is now the premier ad technology partner for African media groups across the continent. DOT also offer premium brands from the UK, USA and Western Europe seamless marketing access to vast and affluent African audiences both domestically and abroad.
About SundayWorld (SundayWorld.co.za)
Published by Fundudzi Media in Johannesburg, Sunday World is a tabloid-format newspaper with an editorial focus that reflects the world of the young, aspirational black consumer – racy infotainment, celebrities, sport and gossip (Shwashwi), a lifestyle section and specialist pages about fashion, beauty, health, motoring and money.