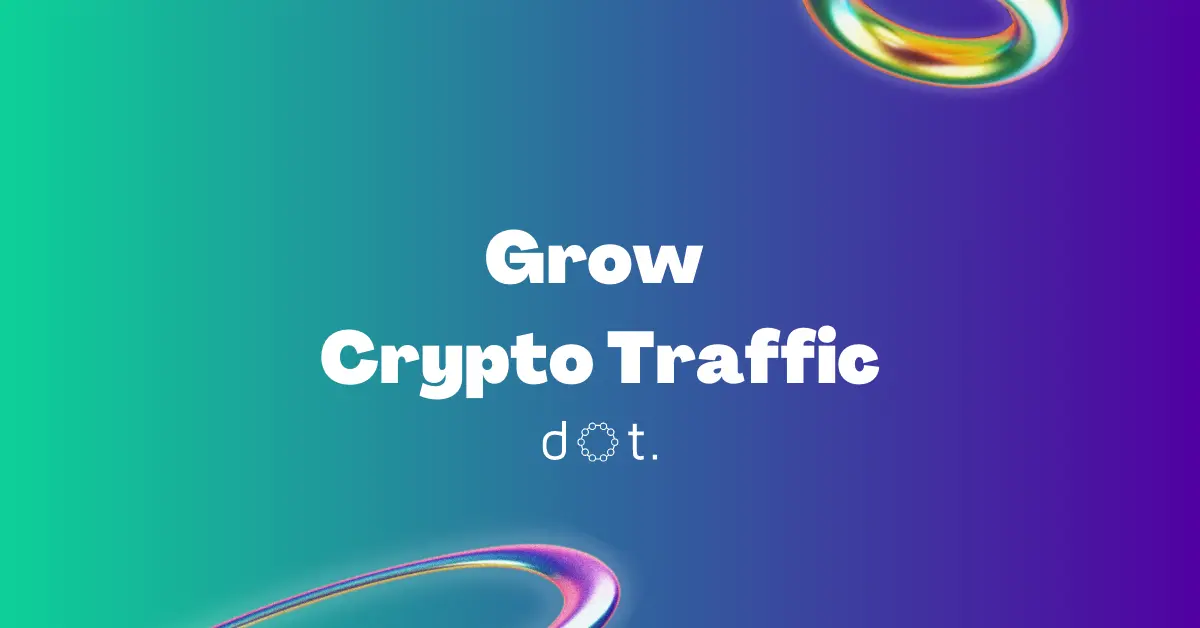 Introduction 
Establishing a robust online presence is key for any crypto business looking to thrive in the digital landscape. While the crypto industry offers countless opportunities, standing out requires more than just a great product or service.
It demands an effective and well-executed traffic generation strategy. In this blog post, we will dive into the realm of crypto traffic optimization, unveiling valuable tips and innovative strategies that will propel your website to new heights. 
TL;DR
Generating relevant crypto traffic for your website is important for success, this blog shows some tips on how to do so.

Tips on maximizing website traffic include, but are not limited to:

Defining target audiences

Technical SEO 

Social media strategies

Use of backlinking

Advertising

Social media buttons for sharing

The monitoring of keywords
⭐️
Define target audience
The target market for crypto now encompasses a wide range of individuals, from novice investors exploring this emerging asset class to seasoned investors seeking new opportunities. Therefore, when promoting crypto websites, it is imperative to avoid making assumptions about the audience. Instead, it is crucial to rely on factual primary research to inform your decision-making. 
Analyzing your website analytics can reveal valuable insights about your current traffic geo's devices, source channels. Conducting surveys can help identify the specific interests of your users. Additionally, leveraging social media platforms allows you to identify and engage with individuals who show interest in projects similar to yours. 
Performing a comprehensive competitor analysis can further refine your marketing plan, enabling you to align your strategies with the preferences and needs of your target market.
By leveraging these research-driven approaches, you can optimize your marketing efforts for maximum impact and success. Once completed, you can use platforms such as Hubspot and Apollo to create a customized target persona.
⭐️
SEO Matters
To drive organic traffic to your crypto website, it is vital to establish a comprehensive SEO strategy. Search engine optimization (SEO) plays a critical role in attracting customers from search engines and improving your website's visibility. Begin by selecting relevant keywords that align with your website's content and target audience.
Optimize your website's structure and content to enhance its search engine friendliness. 
Additionally, prioritize the creation of high-quality backlinks to boost your website's authority and credibility. Employing SEO tools such as Ahrefs can provide valuable insights and help refine your strategy, ultimately leading to higher rankings in search engine results.
By implementing a robust SEO approach, you can maximize your website's visibility and attract a steady stream of targeted traffic from search engines.
⭐️
Social Media
Harnessing the power of social media is crucial for driving website traffic and engaging with your target market especially in web3. Leverage the diverse channels offered by social media platforms to establish meaningful interactions and expand your online presence. Create captivating and share-worthy content that resonates with your audiences, sparking their interest and prompting them to spread the word.
Engage in relevant debates and join groups within the crypto community to foster connections and demonstrate your expertise.
By actively participating in discussions and providing valuable insights, you can enhance your reach and raise brand awareness. Utilize popular social media platforms such as Twitter, Facebook, LinkedIn, and Reddit to amplify your presence and attract a wider audience. 
Through consistent engagement and strategic content creation, social media becomes a powerful tool to boost website traffic and establish your brand as a prominent player in the crypto industry.

⭐️
Advertising
Whilst platforms like Google Ads are very hostile to crypto-related projects, other options exist.
Web3 & Crypto specific solutions such as DOT Ads give the power back to marketeers and founders in the space. Here is a post by blogger Marc Bovenzi on why crypto ad networks are essential for businesses in the space.
To maximize your return on investment, closely monitor your efforts, evaluate the outcomes, and make any necessary improvements.
⭐️
Backlinking
Securing reputable backlinks from websites that cover related themes is a paramount aspect of effectively marketing your web3 business. These backlinks play a vital role in establishing your authority, domain trust, and online credibility.
When other websites, blogs, or social media pages include a link to your site within their content, it signals to your audience and search engines that your website is a reliable and authoritative source. 
By obtaining backlinks from relevant and reputable sources, you position yourself as an industry authority in the eyes of your audience. This not only enhances your reputation but also boosts your visibility and attracts a larger and more engaged audience.
Focusing on building high-quality backlinks is a crucial element in the success of your cryptocurrency marketing efforts, as it helps solidify your position as a trusted and authoritative player within the crypto industry.
⭐️
Social media buttons
Integrating social media buttons into your website simplifies the process for users to share your content across various social media networks. This seamless sharing functionality amplifies your reach and enhances the potential for more individuals to visit your website.
By incorporating social media buttons strategically throughout your website, you empower your audience to effortlessly spread the word about your content and engage with their own networks.
For example, you could check out our own Linkedin page here (if you want to 😉)
As users share your posts, more people are exposed to your brand, increasing the likelihood of attracting new visitors to your website. The convenience of social media buttons encourages organic promotion and expands your online visibility, ultimately driving higher traffic volumes to your website.
Embrace the power of social sharing and leverage social media buttons to leverage the networks and connections of your audience, unlocking the potential for exponential growth in website visitors.
⭐️
Keyword monitoring
Regularly monitoring your website's rankings for industry-relevant keywords on search engines is a valuable practice to evaluate the effectiveness of your SEO efforts.
By tracking your position in search engine results pages (SERPs), you can gain insights into the impact of your optimization strategies.
Monitoring enables you to identify which methods are yielding the best results and make informed decisions to refine your approach accordingly. 
If certain keywords are driving significant traffic and boosting your visibility, you can prioritize those areas and further optimize your content and website structure.
Conversely, if certain keywords are underperforming, you can explore alternative strategies or adjust your targeting to align with more effective keywords.
Continuously evaluating your website's keyword rankings empowers you to adapt and evolve your SEO tactics, maximizing your chances of attracting organic traffic and staying ahead of the competition in the ever-changing landscape of search engine optimization. 
Also if you were looking for one simple hack to improve your SEO reach, there it is.
Conclusion
In the dynamic realm of cryptocurrencies, maximizing traffic to your crypto business website is a strategic pursuit that can unlock immense opportunities.
By implementing the tips and strategies explored in this blog post, you can captivate a wider audience and propel your online success. Stay informed about industry trends, leverage social media platforms, optimize SEO practices, and engage your audience with compelling content. 
Your website is not just a digital storefront but a gateway to growth and prosperity. Armed with the knowledge gained here, embark on your journey of crypto traffic optimization and witness your website evolve into a thriving hub, propelling your crypto business to new heights of success.
Grow Your Crypto Business
Introduction While many entrepreneurs focus solely on traditional marketing strategies, there are...
Read More