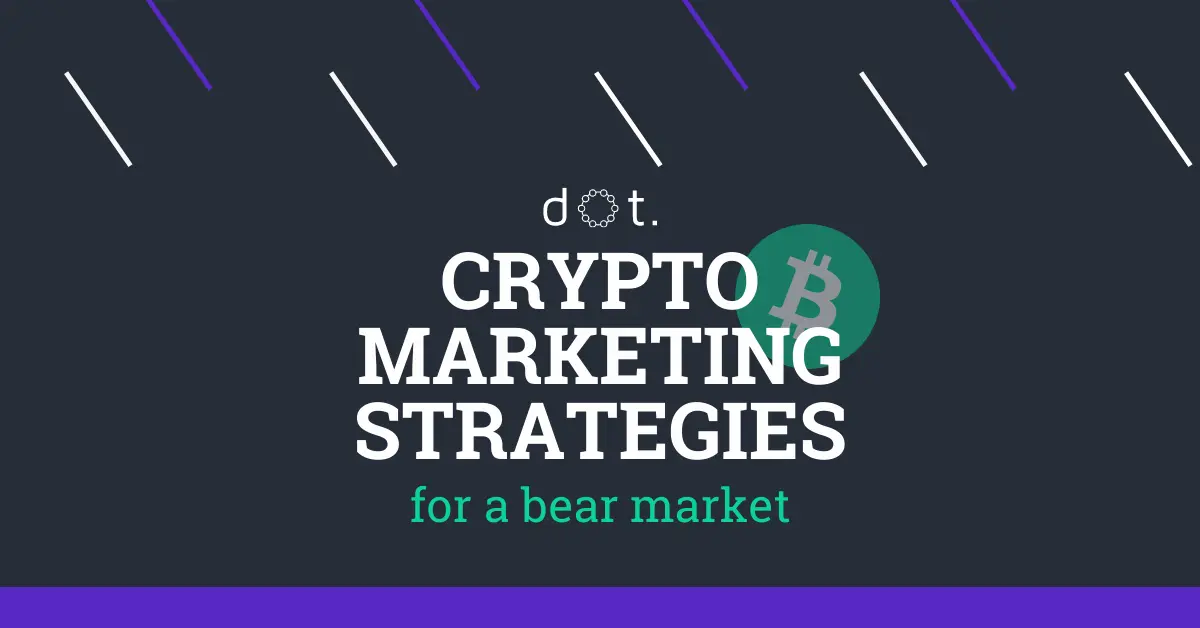 Introduction
2022 was a challenge, to say the least, however, leading cryptocurrencies like Bitcoin and Ethereum had a strong start to 2023, rising in January to the highest levels in months. The ongoing specter of tighter regulation will likely present a headwind to the crypto markets for some time, yet the initial fallout from FTX and Terra-Luna seems to have subsided.  
For cryptocurrency brands looking to gain awareness, these times might be challenging. However, with the right marketing strategy, limitations might be easily overcome.
If you're in this market, the emphasis should be on delivering value to the ecosystem. It's ultimately about explaining how you solve an issue and how you bring value to your customers. In this article, we will cover the challenges and also provide strategy suggestions for you to market your crypto business in 2023. 
The Challenges of a Bear Market
The crypto bear market can be a challenging time for brands that are involved in this space. It is characterized by a sustained period of declining prices, which can have a significant impact on the industry and its stakeholders. 
Dwindling Adoption: During a bear market, interest in crypto from both consumers and investors tends to wane. This can make it harder for brands to get the attention of their target audience and grow their user base. Brands that rely on crypto as a primary source of revenue may find themselves struggling to stay afloat in the face of declining adoption.
Decreased Investment: The bear market also often results in a decrease in investment in the crypto space. Brands that rely on investment to fund their growth and operations may find themselves in a precarious position as funding dries up. This can make it difficult for them to scale their operations or continue to develop their product.
Negative Perception: The bear market can also lead to a negative perception of the crypto industry as a whole. Brands that are associated with crypto may find themselves facing increased scrutiny and skepticism from the public, making it harder for them to build trust and credibility with their target audience.
Crypto Marketing Strategies for 2023
While we can hardly influence the market, we can influence how we react to it. So planning a successful marketing strategy is key for smoothly navigating the bear market.
For this year, here's what you should keep in mind.
Re-Evaluate Target Audience
Companies should assess their target audience and determine whether their current marketing strategies are still effective in reaching and engaging the specific group. They may find that their target audience has changed due to market conditions, and need to adjust their strategies accordingly.
Demographic shifts: Market conditions can lead to shifts in the demographics of a company's target audience. For example, during a bear market, there may be a decrease in the number of new or casual investors, while more experienced or long-term investors become a more prominent part of the target audience. Companies need to be aware of these shifts and adjust their marketing strategies accordingly.
Changing needs and interests: Market conditions can also change the needs and interests of the target audience. For example, during a bear market, investors may be more focused on stability and security, rather than growth and returns. Companies need to understand these changes and tailor their marketing messages and strategies to meet the evolving needs and interests of their target audience.
Communication channels: The way that people consume information can also change during a bear market. Companies need to be aware of these changes and ensure that they are using the most effective communication channels to reach their target audience. For example, if more people are turning to social media for investment information, a company may need to increase its presence on social media platforms.
Adapt Content Marketing
Creating a solid content marketing plan is essential, with the goal of informing your audience about the advantages and potential applications of your project. In order to do this, you may create blog posts, videos, and infographics that describe how your product works and what makes it unique from the competitors.
The crypto sector is now home to many initiatives. If you don't have an effective plan for promoting your content, investors may have a hard time finding it, so spreading awareness is a fundamental objective of crypto content promotion.
Before you begin the creative process, it is also important to have in mind the purpose of each piece of content and how it will fit into your broader marketing plan. Focus on recognizing the challenges whilst remaining optimistic about the potential to overcome them. Ignoring the difficult context is a mistake and will make advice seem untrustworthy.  That said, a delicate balance can be found. Continue to share user success stories from the past, and interesting information highlighting the benefits of your business even during difficult times.
Build a Strong Community
Building a community in the cryptocurrency space involves attracting a group of people who are passionate and invested in the success of your project. This can be done through social media, forums, meetups, conferences, and above all, through creating real value for your community.
By fostering a sense of belonging and creating opportunities for engagement, the project can gain a loyal following of supporters who can help drive awareness and adoption.
Additionally, a strong community can provide valuable feedback and input on the development and direction of the project. This will create a ripple effect whereby new users will be eager to join a growing community driven by a strong belief. Read more about community building here.
Join an Ad Network
Another great method to reach your desired audience is by joining a crypto ad network, which will help you raise awareness of your business, improve traffic, and generate new leads. These networks provide a cost-effective approach for companies to connect with prospective clients and investors while enabling them to market their goods or services to a specific audience. 
As opposed to traditional ad networks, crypto ad networks are industry-specific so you will be able to reach relevant audiences. Due to regulatory uncertainty, some well-known sites have prohibited crypto advertising. However, crypto-focused ad networks may support the growth of your project by running a variety of ads on websites that offer access to millions of crypto-interested readers.
DOT is one of them! We can help you get closer to your ambitious business goals. If you have any questions, let's talk! Or see our list of Best Crypto Ad Networks for 2023.
Invest in SEO
By making your website more noticeable in search engine results, you'll get more visitors to your website. You can learn more about SEO here. Frequently disregarded, SEO is probably one of the most important strategies for attracting interest during a bear market. Regardless of what the rest of the market is doing, ranking on the #1 page of Google results will continue to bring relevant leads. 
To make your website easily readable by search engines, you should optimize the text content, picture tags, and website structure. It's also crucial to build relevant backlinks from other websites and news stories pointing to relevant pages on your website. Some top websites such as CoinTelegraph can often charge upwards of $15,000 for a single post, but here is a list of much more economical content packages across some great sites.
Conclusion
In conclusion, re-evaluating marketing strategies during a bear market is essential for crypto businesses looking to navigate challenging conditions.
By making necessary adjustments, crypto businesses can weather the bear market and position themselves for future growth. With the right strategies in place, you can emerge from the bear market stronger and better equipped to succeed in the long term! 
What's your marketing strategy? 
Grow Your Crypto Business
Article originally published on KillerStartups. In a world where giants like Google...
Read More