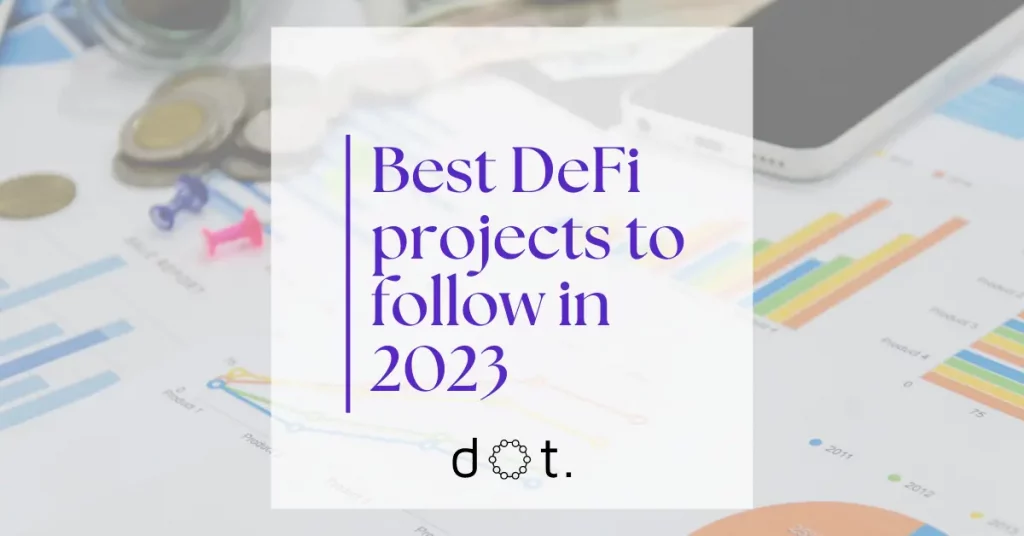 If you need a quick introduction to DeFi, check out this article. It explains DeFi in the post-FTX context and presents its most popular use cases. 
Now, if we were to choose only 5 DeFi initiatives to watch in 2023, these would be the following. 
A decentralized exchange founded in 2018 and built on the Ethereum blockchain, Uniswap is one of the biggest players in the DEX space. 
The trading protocol was designed to function as an on-chain automated market maker (AMM): rather than using a traditional market of buyers and sellers, the alternative is liquidity pools. This ensures that any exchange of digital assets is permissionless and autonomous.
Uniswap's liquidity pools are made up of token pools. Each is protected by its unique smart contract. Users may trade using these pools without an account, 24/7, Ethereum serving as the infrastructure.
Uniswap is one of the most popular  DEX initiatives, due to its excellent trading UI, profit prospects, and well-established track record. 
Bridges is the first anti-scam decentralized exchange. Their goal is to make DeFi more accessible to everyone and to empower token holders and project developers. 
They scan the world's leading chains and exchanges to find and execute the best swaps. Users gain insights into many projects and their tokens and are given reassurance of the security of these projects through the Bridges audit process. 
Their easy-to-use on/off-ramp capabilities enable users with nothing more than a credit card access to DeFi quickly and conveniently. 
Centrifuge, the "first protocol to connect DeFi to the real-world," seeks to integrate the multi-trillion dollar real-world assets (RWA) market into DeFi.
Users of the platform can tokenize actual assets like bills, properties, and royalties to assist borrowers in obtaining finance without the aid of banks or other financial middlemen. Its token may be used to access funds using their lending Dapp, Tinlake. 
Centrifuge's pooled liquidity allows investors to receive steady rates, while entrepreneurs and small enterprises can receive funding. 
DeFiChain – a DeFi blockchain 
Built on top of Bitcoin, DeFiChain is a non-turing blockchain. Designed specifically for DeFi, it allows for transparent, secure, and quick transactions. 
DeFiChain was developed to facilitate financial services, such as borrowing, lending, investing, saving, and any other activities a commercial bank may carry out. 
DeFiChain uses PoW (proof-of-work) as a consensus protocol, and those who participate in staking are rewarded with DFI, their cryptocurrency. Being built on Bitcoin, adds extra security to their ecosystem.
Kyber Network is a multi-chain crypto trading and liquidity platform. KyberSwap, their decentralized exchange, links traders to liquidity pools as opposed to an order book. The protocol's smart contracts provide customers access to liquidity and help them execute deals without intermediaries.
Kyber Network is a developer-friendly project that is also interoperable with other protocols. Many organizations, dApps, and wallets, including MetaMask, SetProtocol, AAVE, Coinbase, have already incorporated Kyber into their operations. 
Conclusion
It's important – now more than ever – to do your own research before investing in any initiatives or projects. Navigating the crypto ecosystem can be challenging, what would you say helped you the most in your journey? 
Grow Your Crypto Business
Article originally published on KillerStartups. In a world where giants like Google...
Read More